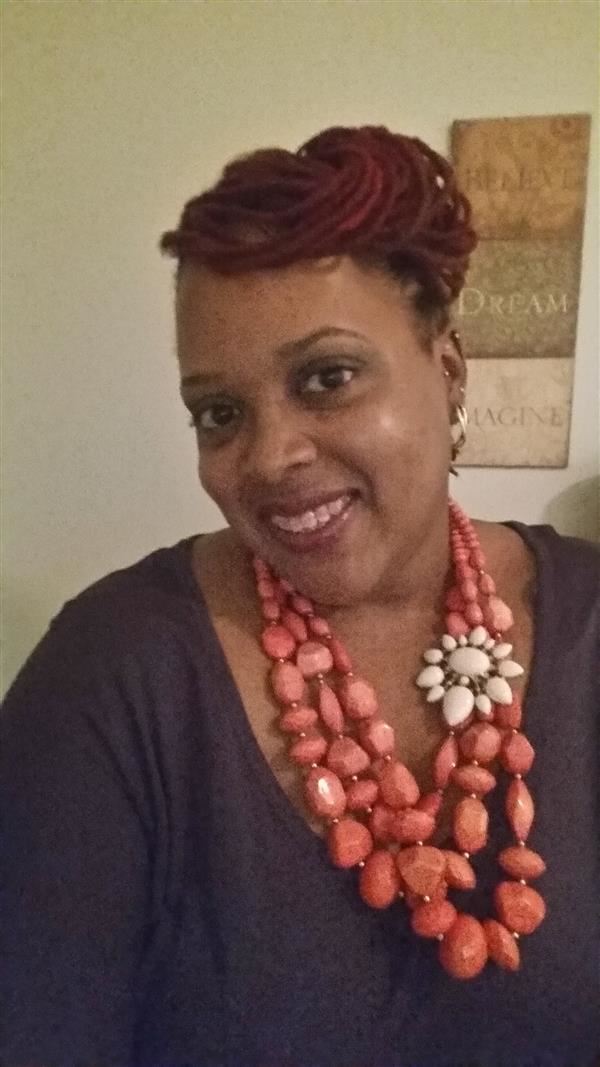 Phone: EXT 11014
Email:
Degrees and Certifications:
Baccalaureate Degree-Harris Stowe State University 2004 Masters Degree Educational Administration-Lindenwood University 2010 Masters Degree Education-Lindenwood University 2012 Ed. Specialists Degree-UMSL pending Ed. Doctoral Degree- UMSL in progress Certifications: English 9-12, Special Reading K-12, Principal 7-12, Principal K-8
Ms.

LaTasha Jones

My name is LaTasha Jones. I have an 18 year old son who is a 2018 high school graduate. He aspires to enlist in the Navy.

I grew up in St. Louis, MO and have lived on the Northside for most of my life. When I was younger, I traveled a lot; my father was in the service. Because I traveled a lot as a child I absolutely love traveling now. As an adult I have been to Jamaica, Mexico, several parts of Ireland, Belize, Bahamas and all over the United States.

I graduated from Pattonville High School and went directly to St. Louis University. I really wanted to be a pediatrician when I was younger. After being in the pre-med program for two years I came to the conclusion that the hospital was not the place for me. I have always thought of myself as a superhero so I began to think of careers that would allow me to save the world. With the help of my grandmother it did not take me long to realize that education was the profession for me! I love students and I love learning. I believe that all children can learn and achieve if afforded the opportunity and the proper guidance and fostering. I believe in informing students of their freedom and right to make choices about learning, or not learning. I strongly believe that students should be aware of the consequences for electing not to take advantage of the many learning opportunities that are afforded to them. I have high expectations for all students, and I inform them of the expectations and hold them accountable when the expectations are not met and I believe that if we have high expectations for students then they will achieve.

I received my BS from Harris Stowe State College in secondary English 9-12. I completed my student teaching at Gateway HS in 2003. I started working at Mel Carnahan Middle School in 2004, teaching 7th grade Communication Arts. When Carnahan transitioned from a middle school to a high school I interviewed to stay there and was selected to teach Freshman English. Later i became the assistant principal and then the principal of Carnahan High School of the Future. I received two Masters from Lindenwood University; Masters in Educational Administration and Masters in Education respectively. To date I have completed all the coursework for an Ed.S. from UMSL. I plan to continue my education at UMSL and obtain my Ed.S and ED.D simultaneously.

I sincerely believe that educating students is largely a craft to be learned and mastered, rather than merely an innate talent. One must work hard to become a quality teacher. I also believe that there is a direct correlation between planning and preparation, and a person's teaching quality. An effective teacher must have an organized classroom environment that is more than just aesthetically pleasing, but print rich and informative. It must be a classroom with rules, structure and an established culture of mutual respect and rapport between the students and the teacher. The administrator must approach goals with integrity as the foundation and make my administrative decisions based on principles in order that I treat people as fairly as possible. I value fiscal responsibility highly, for as an officer of a public institution, I am responsible to the taxpayers to treat their investment wisely. I believe that it is important to tell the truth so that people will trust me even if they disagree with me.

I enjoy bowling, shopping, dining out, skating and playing word and trivia games. I love concerts and live bands and I listen to all types of music. I am extremely passionate about kids and I enjoy people.