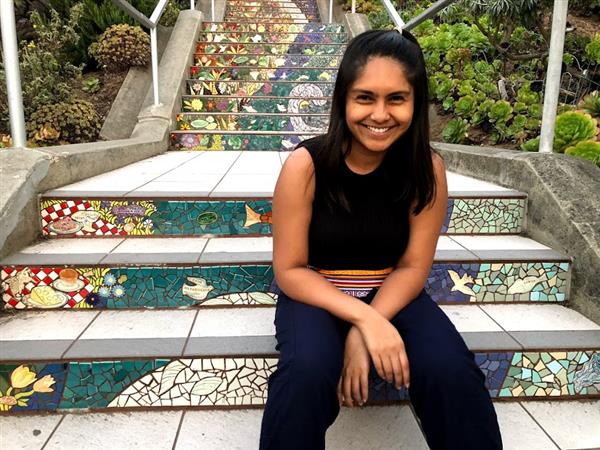 Phone: 314-669-4483
Email:
Degrees and Certifications:
Bachelor's in Quantitative Science and English from Emory University Ongoing Master's at University of Missouri, St. Louis
Miss

Anwesha Guha

Hello! I am one of four teachers in the math department at Carnahan. As we transition to online learning, make sure you have access to your Microsoft Teams account to complete assignments for all classes. I am teaching the following classes in Teams:

- ACT Prep (Grades 9, 10, 11)

- Algebra & Trigonometry (Grades 11, 12)

- Statistics (Grade 12)

Outside of school, I like to listen to podcasts, read, spend my time outside, and travel (though I'm definitely taking a break from that now). I'm here for anything you or your students might need.

IMPORTANT INFORMATION FOR STUDENTS AND FAMILIES WITH ONLINE LEARNING:

Click here to access Microsoft Teams

Office Hours:

I will be available via email (anwesha.guha@slps.org) to meet with students from specific classes at the times listed below. Note: All students are NOT required to attend office hours. These times are when I will be available for students who need extra help or guidance.

ACT Prep: Tuesday and Thursday 10 - 11 a.m.

Algebra & Trigonometry: Tuesday and Thursday 2 - 3:30 p.m.

Statistics: Wednesday and Friday 12:30 - 2 p.m.

Schedule Conferences:

I will be available to schedule individual conferences with students (via Zoom or email) at the times below. Email (anwesha.guha@slps.org) to set up an appointment.

All classes: Monday - Friday 7 p.m. - 8:30 p.m.

If office hours or conference times do not work, contact me to discuss your situation.

Assignment Expectations:

All classes will have their assignments by Monday. All classes will be expected to submit their assignments by the Sunday of the following week by 11:59 p.m. Expect to submit at least one assignment for each class each week. Statistics students, you have an additional discussion assignment due each Friday at 11:59 p.m.

I highly value communication. I expect that you contact me if you are running into any trouble submitting assignments. I will work with you to figure it out.
Class Details and Assignments