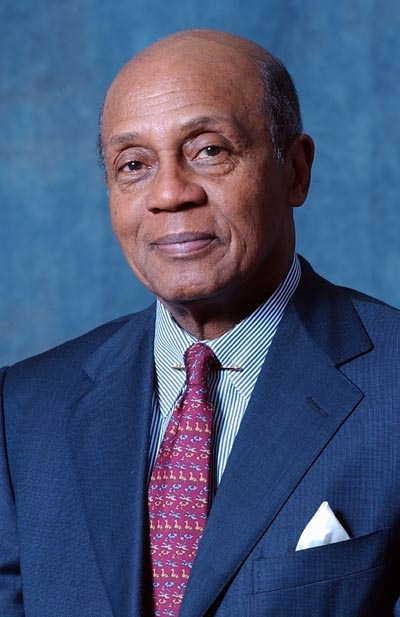 Phone:
Email:
Degrees and Certifications:
Dr.

Donald M. Suggs

President and Publisher of the St. Louis American Newspaper

Donald M. Suggs was born in East Chicago, Indiana, and attended the public schools there. He graduated with B.S. and D.D.S. Degrees from Indiana University, then completed his post-graduate work at Washington University Dental School and Homer G. Phillips Hospital. He served as chief of oral surgery at Dover Air Force Base in Delaware and was the first African-American to serve as an associate clinical professor at St. Louis University Dental School. Suggs was a fellow of the American Association of Oral and Maxillo-facial Surgeons and maintained a limited private practice in his specialty before retiring in 2011.

Active in the civil rights movement in the 60's and '70s, he served as chairman of the Poor People's March-On-Washington in 1968. Later, he became founder and chairman of the African Continuum, organized to bring serious non-commercial African-American artistic endeavors to St. Louis. He was a long-time president of the Alexander-Suggs Gallery of African Art based in St. Louis and New York City (1970-1989). He is a founding member of the Center for African Art, (now the Museum of African Art in New York City) and is a former member of the board of directors of the Studio Museum in New York as well. Suggs currently serves on the St. Louis Art Museum Board of Commissioners and its Collections Committee.

He was the first African American to serve as president of the Convention and Visitors Bureau of St. Louis. His business activities also include the President of Arch Concessions and a partner with D & D Concessions and the City Plaza Project.

Dr. Suggs has been awarded honorary doctorate degrees from Washington University, the University of Missouri-St. Louis, Harris-Stowe State University, and Saint Louis University and is the recipient of many civic awards.

Washington University, University of Missouri-Columbia, Southeast Missouri State University, Harris-Stowe State University, Missouri State University, St. Louis Community College, Maryville University, Fontbonne University, and Webster University all provide annual scholarships in his name.

In 2013, he served as Missouri State University's commencement speaker for the colleges of Arts and Letters, Education, Humanities, Public Affairs, and Global Studies. In December 2014, he delivered the address for Washington University's Winter Graduates Ceremony. In 2016, he was the guest speaker at Washington University's McLeod Awards Ceremony.

He is currently publisher and executive editor of the St. Louis American Newspaper, Missouri's largest black newspaper. He is the father of Donald M. Jr. (deceased), Dawn Marie of Los Angeles, California, and Dina Margaret, of New York City, and grandfather of Delali Maxine Suggs Akaffu. He has traveled widely in Europe, Asia, South America, the Caribbean, the Middle East, and Africa.

Board Service:

Barnes-Jewish Goldfarb School of Nursing: Board of Directors

Contemporary Art Museum St. Louis: Board of Directors

Dance St. Louis: Executive Committee

Forest Park Forever: Executive Committee

Grand Center, Inc.: Board of Directors

Greater St. Louis Area Boy Scouts of America

Harris-Stowe State University: Founder, African-American Business Leadership Council

Herbert Hoover Boys and Girls Club: Founding Board Member & Executive Committee

Lifelong Vision Foundation

The Muny: Board of Directors

Nine Network of Public Media: Board of Directors

Opera Theatre of St. Louis: Board of Directors

Radio Arts Foundation: Advocacy Council

Regional Business Council: Board of Directors, Governance Committee

St. Louis American Foundation 501(c)3: Founder & President

St. Louis Art Museum: Advisory Commissioner (Past Commissioner)

St. Louis Black Leadership Roundtable

St. Louis Children's Hospital: Board of Trustees

St. Louis Regional Chamber: Executive Committee

St. Louis Science Center: Board of Trustees

St. Louis Symphony Orchestra Executive Committee

United Way: Executive Committee
Founder of Charmaine Chapman Society (Formerly the African American Leadership Giving Initiative)

Alexis de Tocqueville Society
Urban League of Metropolitan St. Louis: Executive Committee
Veteran's Business Resource Center
Washington University School of Medicine/Alvin J. Siteman Cancer Center: Program for the Elimination of Cancer Disparities Advisory Committee
Past board Service:
Advance St. Louis/Prop-A Steering Committee Co-Chair
Center of Creative Arts St. Louis (COCA)
Girls, Inc.
Greater St. Louis Community Foundation
Innovate St. Louis: Board of Directors
Junior Achievement
Missouri History Museum
Partnership for Downtown St. Louis
Salvation Army of Greater St. Louis
St. Louis ConnectCare
St. Louis Zoo
University of Missouri-St. Louis: Chancellor's Council
Washington University: George Warren Brown School of Social Work National Council
Webster University: Board of Trustees
Civic awards:
St. Louis Citizen of the Year (2004)
Lifetime Achievement Award: Big Brothers/Big Sisters
Mentor St. Louis
Gateway Classic
The Junior Achievement/Anheuser-Busch St. Louis Business Hall of Fame Laureate
The Presidential Medallion—Harris Stowe State University
Human Development Corporation— Community Signal Award
YMCA of Greater St. Louis—Human Dignity Award
Dance St. Louis—Swan Award
FOCUS St. Louis—Leadership Award
Missouri Public Affairs Hall of Fame
Press Club of Metropolitan St. Louis Media Person of the Year (2015)