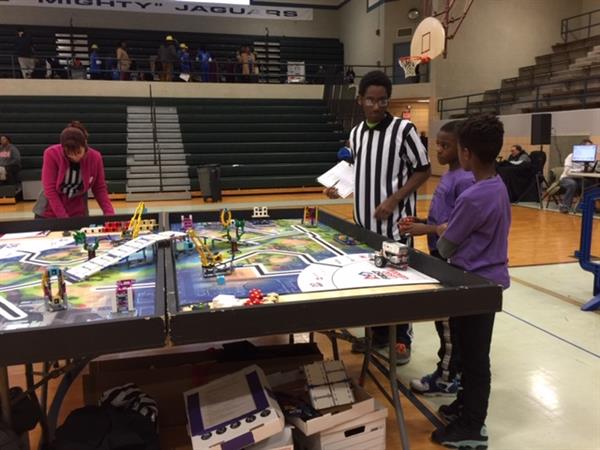 Phone:
Email:
Degrees and Certifications:
The Codies

Welcome to "The Codies," Patrick Henry's First Lego League Team! We meet twice a week after school with Ms. Jones as our coach. We also compete in weekend tournaments! The whole point of our club is to use a robot to run missions, problem-solve as a team, learn how to code, have a ton of fun, and make friends!

The Codies have been busy this semester preparing for the First Lego League Tournament. Our team members are Shaun Davis, Judah Peoples, De'Shon Luckett, Nina Easterwood, Jakyara Jackson, Travion Mimes, and they are led by Ms. Kelsey Jones. The team has been preparing for the last several weeks for an all-day competition on Saturday, November 23rd, 2019. We learned how to code, how to create plans for our robot, and how to complete missions with our robot. We also had to create a project to better the community according to the core values of the First Lego League. Our team chose to research handicap accessible playgrounds. Inspired by our own Patrick Henry students with disabilities, The Codies realized some of our classmates could not participate fully on our own school playground because it is not handicap accessible. When we researched further, we found out the closest handicap accessible playground is 1.8 miles away from school, and even that playground is in need of repair!

In our all-day competition, The Codies had to compete in our missions with their robot, present our playground project research to a panel of judges, and work together as a team to problem-solve on the spot for a mental challenge. Ms. Jones was not allowed to assist us at all, but our hard work over the last several months really paid off! We were awesome!! We worked together to problem-solve and improvise. We made sure our robot was functioning. We even replanned a code on the fly to make sure our robot could complete our missions when we noticed a flaw in the system. Most importantly, we had fun while we challenged ourselves in a tough field of competition.

Thank you to St. Louis Public Schools and Little Bit for sponsoring our team, and thank you to Ms. Jones for the after school and weekend commitment to get this team prepared and ready. We hope to expand our team in the spring season, and we hope to expand our staff, so please join us on this very exciting adventure! We want to provide even more opportunities for our students to experience STEM in action!