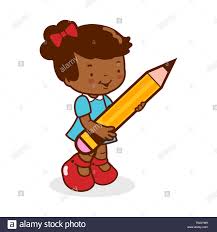 The BEST way to help advance your child's writing is to have them practice, practice, practice!!! Have them write their sight words and simple sentences, focusing on letter formation and space between words. Remember that they do NOT have to spell everything correctly. If they don't know how to spell a word, remind to write the sounds they hear. You can help with spelling sight words if needed.

If you have paper at home, you can have your child keep a daily journal. Give them a suggested topic or let them free write and draw a picture to go with their writing.

Here are some things they can write about (if you need ideas)

- What are your favorite foods?

- What kind of superpower would you like to have? What would you do with that power?

- Write a story about your favorite animal. Write at least 3 things you know about that animal.

- How are you feeling today?

- Write a make believe story about a dragon.
Last Modified on March 26, 2020