Virtual Student Engagement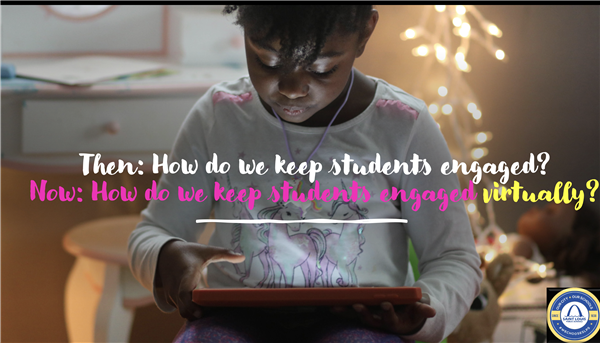 Educators today are making history with the innovative strategies and dynamic teaching that has emerged from the sudden shift to virtual learning. One thing is for sure - education will forever be changed. The silver lining is that the tools and strategies that teachers are now using, will only improve and innovate instruction moving forward. Educators are leveling up and reimagining traditional engagement strategies to promote 21st century teaching and learning.
What is engagement?

In an educational setting there are three distinct types of engagement:

Behavioral Engagement: Behavioral engagement conveys the presence of general "on-task behavior." This entails effort and persistence along with paying attention, asking pointed questions, seeking help that enables one to accomplish the task at hand (rather than being given the answer), and participating in class discussions.

Cognitive Engagement: Cognitive engagement connotes investment aimed at comprehending complex concepts and issues and acquiring difficult skills. It conveys deep (rather than surface-level) processing of information whereby students gain critical or higher-order understanding of the subject matter and solve challenging problems.

Affective Engagement: Affective engagement connotes emotional reactions linked to task investment. The greater the student's interest level, positive affect, positive attitude, positive value held, curiosity, and task absorption (and the less the anxiety, sadness, stress, and boredom), the greater the affective engagement.
Virtual Student Engagement

In thinking about engagement virtually, we must first consider what does engagement look like in any setting? Then we can determine an appropriate digital engagement tool to support our intended outcomes.

Click here to access the presentation and resources from the virtual engagement professional development.

Technology Tools for Engagement

Best practice in virtual engagement is about the strategy/expectation for learning first, and the technology tool second. When designing instruction and embedding in those tried-and-true engagement strategies, total participation techniques, Kagan strategies etc. consider what is the best tool to accomplish the intended learning outcome? Click here to access a curation of edtech tools that promote engagement.
An excerpt from the Distance Learning Playbook (Fisher, Frey, Hattie 2020)...

Think functions of engagement, not just tools. In the rush to create virtual classrooms, we focused on the tools rather than the learning and engagement. The authors advise that we now ask ourselves: "What do students need to be able to do (online or in school) to be successful learners? "

To be successful learners, students need to perform four main functions:

1)Find and evaluate information efficiently,

2)Use information accurately and ethically,

3)Create information to inform their learning

4)Share information responsibly with others.

"... it isn't the medium that matters... By shifting attention from the tools (which are cool and seemingly infinite) to the functions, we can hone what we need to accomplish in order to building students' capacity in face-to-face and distance learning. The functions of learning lead right back to the engagement in learning." (The Distance Learning Playbook, Corwin. The Main Idea 2020)