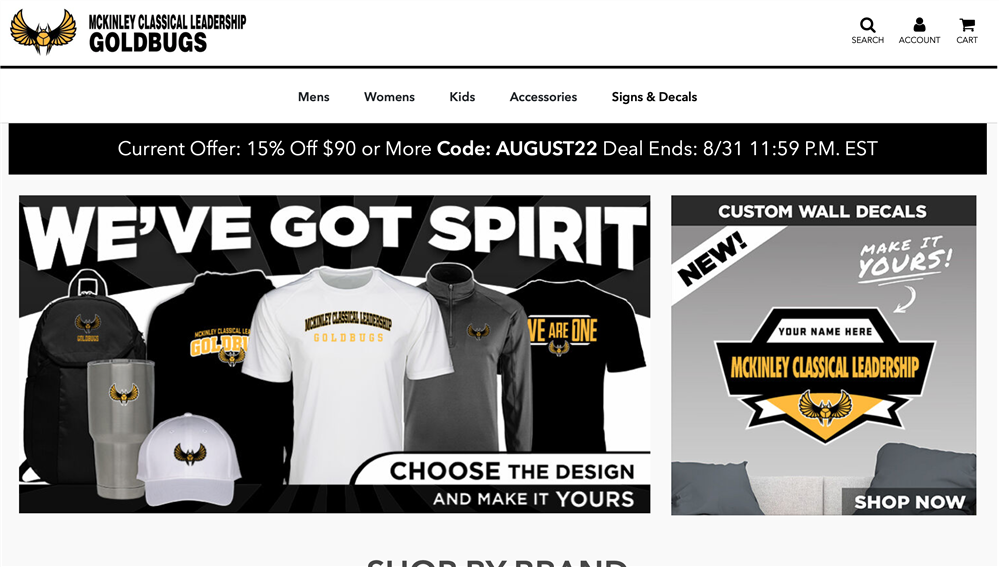 You can get your personalized McKinley Gear right here!!! GO GOLDBUGS!!
ATTENTION!!!!!!! SPRING SPORTS ARE BACK!!!!!!!!

HIGH SCHOOL PARENTS AND STUDENTS THAT ARE INTERESTED IN THE FOLLOWING SPORTS:

BOYS TENNIS
TRACK AND FIELD
GIRLS SOCCER

PLEASE SEE THE LINK THAT IS POSTED BELOW THIS MESSAGE TO SIGN UP. THE LAST DAY FOR SIGN-UPS WILL BE FEBRUARY 17.

PLEASE MAKE SURE WHEN SIGNING UP THAT YOU HAVE ALL OF THE REQUIRED DOCUMENTS TURNED IN.

UPDATED MSHSAA SPORTS PHYSICAL TURNED INTO COACH DREW

IF YOU HAVE ANY QUESTIONS, PLEASE EMAIL RICHARD.SIMMONS@SLPS.ORG WITH YOUR CONCERNS.

McKinley CLA Athletics

In order for students to participate in McKinley CLA Athletics, students and parents need to read and review the following information. Before participating, the following forms will need to be filled out and turned into Coach Simmons:

A Completed MSHSAA Physical Form
A MSHSAA Pre-Participation Form

Concussion Awareness: In order to ensure the safety of your child, we ask that all parents and students take the online Concussion Course on the MSHSAA.org website located under sports medicine. The course is free to take online under the NFHS Learning Center Link: Concussion in Sports. You will need to create a login; the entire course takes about 30 minutes, but again, it is free.

The free course is located at the following URL https://www.mshsaa.org/SportsMedicine/

Physical Exams: Before any player can participate in practice and games, they must have a physical, the MSHSAA required physical form filled out, and turned into the Athletic Director. A physical is good for two full years from the completion date.

The form (PDF) is located at the following: Physical Form

Emergency Cards: All coaches need to have student emergency cards in case there is a medical emergency during a game or practice to ensure the safety of your child. The cards must be filled out before a player can participate practice and games. The cards are located with the Athletic Director.

Uniforms: Once the season ends, students have one week to return their washed uniforms to their coach or to the Athletic Director before they lose their deposit. Student athletes and their parents are responsible for replacing any uniforms or loaned sports equipment (such as bags or warm ups) that are damaged or not returned.

Insurance- SLPS/MSHSAA Catastrophic: The Board of Education does have insurance, but it is secondary. Whatever your primary insurance does not cover, the board's secondary insurance may cover. If this situation does arise, the front office can assist you with finding the appropriate forms and paperwork.

The MSHSAA pre-participation form will document your primary insurance information. The pre-pariticaption form can be found here: MSHSAA Pre-Participation Form

Academic Eligibility Standards:

If a student has one F or two D's at the end of the 10 week grading cycle, they cannot participate in their sport until they get at least one F or one D to a passing grade by the next 5 week cycle.
If a student has two F's at the end of semester, the student cannot participate in any sport the following semester. For example: at the end of 2nd semester, they cannot play in the next fall semester.

Practice and Participation: Practices are usually held daily. Check with the coaches on practice schedules. All participants are required to practice 14 days before participation.