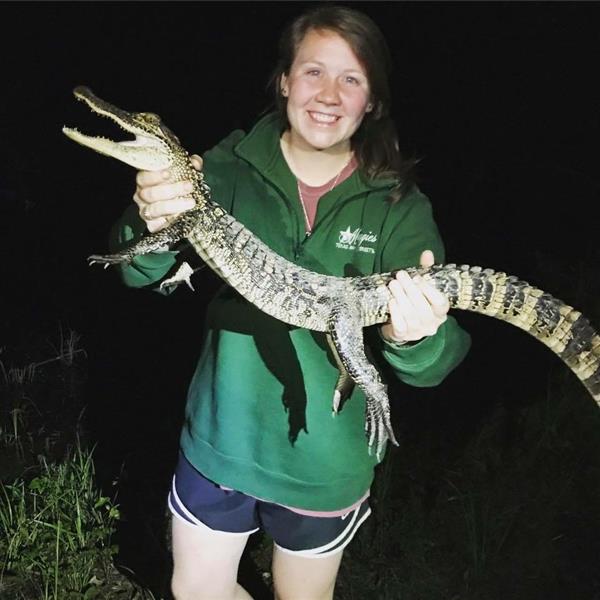 Phone:
Email:
Degrees and Certifications:
Kaitlyn Forks

Email: KaitlynForks@slps.org

Room Number(s): 208

Subject(s): Science

Building Phone: N/A

Education:
Bachelor of Science in Wildlife and Fisheries Sciences, Texas A&M University
Master of Secondary Science Education, University of Missouri St. Louis (in progress)

"Science is a way of thinking much more than it is a body of knowledge." -Carl Sagan

Biography:
I grew up in San Antonio, Texas and recently moved to St. Louis to pursue a career in Science Education. Before I was a classroom teacher, I provided environmental education to learners of all ages! I was also a researcher in the field of herpetology. That's the study of reptiles and amphibians!

Some of my past research experiences include: investigating the diets of freshwater clingfish and sizes and shapes of lizards in the Caribbean, counting the number of species of frogs, snakes, and lizards on a specific property in Costa Rica, developng computer codes for USGS that can predict population sizes and home ranges of animals, and exploring the use of PVC pipes as conservation tools for tree frogs! I am so excited to bring my experiences from my research to the classroom and share my passion for nature with our kids!

As a first generation college student, I want to share with my students how many opportunities an education can provide for them! Mine has taken me all over the world! I believe in the potential of every child to be a passionate and enthusiastic learner and I believe my job as an educator is to find the one thing that ignites their curiosity! I feel so lucky to be at AESM, a school where I know the faculty loves our students and gives them the tools for success!