This is a link to the Gopher at home P.E. program.

Check out the link if you are interested in some p.e. equipment and at home p.e. ideas! $10 from each order does go to Mallinckrodt if you do decide to order. You will just have to identify Mallinckrodt in the subscription confirmation email you receive. Let me know if you have any questions.

Good morning everyone! I wanted to reach out to you to share an idea that Mrs. Zoellner and I have been working on to somewhat replace Field Day. We are super bummed that we will not be able to have field day this year and wanted to offer an alternative. Sooo I am sending out some links to some "minute to win it" ideas that you will be able to do with your family. I have included links to several different websites below, each game is explained in the website. The concept is relatively simple, try to complete the task in under one minute and you win! There are many different games on the websites so feel free to pick and choose which ones you can or would like to do. Also feel free to make up your own if you would like. In addition to doing these games, if you would like to take some pictures that you wouldn't mind sharing please send those to Mrs. Zoellner. She will be making a slideshow with pictures from the games and activities that will then be posted to the PTO facebook page. We are looking to have all photos sent to Mrs. Zoellner by next Wednesday the 20th (Kirsten.zoellner@slps.org).

Thank you and let me know if you have any questions. (Robert.narrow@slps.org)

https://teachmama.com/minute-win-games-kids-family/ https://redtri.com/the-best-minute-to-win-it-games-for-kids/slide/7 https://www.happinessishomemade.net/minute-to-win-it-games-for-kids-teens-and-adults/

Indoor Activities

There are many things that students can do to stay active while stuck inside. Here are just a few:

push ups, sit ups, planks, stretching, yoga

jumping jacks, mountain climbers, wall sits, burpees,

cross crawls

If you do these activities back to back for 10 min it is a great workout for them and parents as well. Push ups will need to be modified for younger kids (I usually just do planks or they could do incline pushups where their hands are on an elevated surface like a couch and their feet are on the ground).

5 minute challenge - do 5 minutes of non-locomotor movements (moving in one spot but not actually moving around the room, most movements can be modified to be done in one place without moving around the room) without stopping. Have them switch up movements if they get tired of one movement.

Great outdoor activities to do with the family are tag games and any sport related activities that your child is interested in. Obstacle courses tend to be one of the favorite things for our students to do as well.
All Categories
Unassigned
Select Month
January
February
March
April
May
June
July
August
September
October
November
December
Select Year
2019
2020
2021
2022
Filter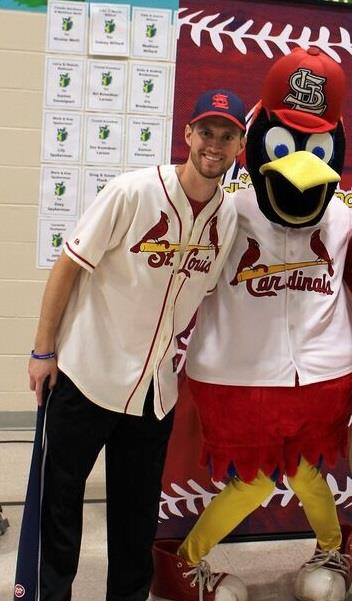 Phone: 314-352-9212
Email:
Degrees and Certifications:
Ed.D. Saint Louis University M.A.E. Truman State University B.S. Exercise Science
Dr.

Robert Narrow

I am a lifelong mover who enjoys all sports and being active any way possible. I am a graduate of Truman State University where I earned my undergraduate degree in Exercise Science followed by my graduate Master's Degree in Education. I am also a recent graduate of Saint Louis University from their Educational Leadership doctoral program. I have been teaching physical education and health for seven years and find myself learning from my students each day in addition to them learning from me.

It is my firm belief that students can learn the best in a safe, positive environment where respect for each other is evident daily. In my classes students are challenged to improve and achieve their personal best each day. I am committed to the success and inclusion of every student daily. I enjoy participating in the activities with students as I believe that can help some students to relax and enjoy themselves in p.e.
P.E. YouTube channel

Adventure to Fitness

This resource has many different videos to access. There are a lot of phsyical fitness related videos as well. Adventure to fitness is my personal favorite series because it takes kids on an adventure while keeping them active. There are also several yoga videos that can keep the whole family engaged as well.

Make sure to enter code Learn60 at checkout for 2 free months of the montly subscription. You will still have to enter credit card information so make sure you cancel after 2 months.