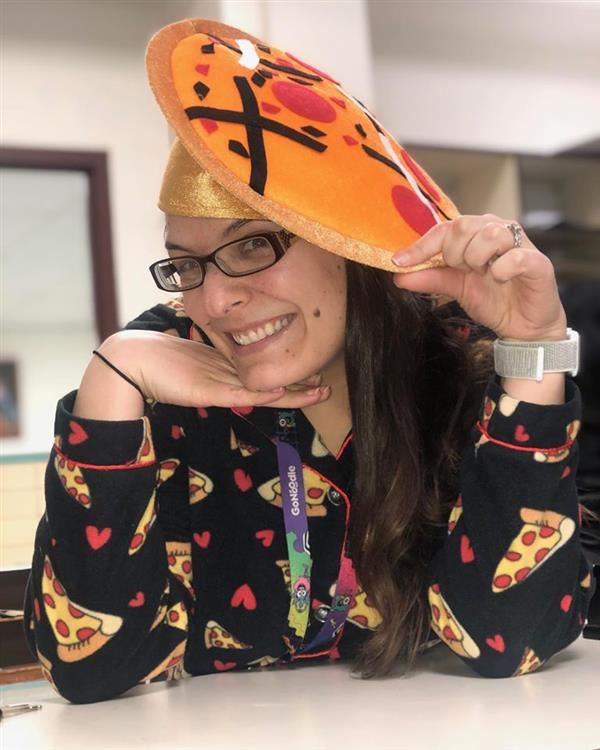 Phone: 314-265-9738
Email:
Degrees and Certifications:
Bachelor of Science, Psychology Master of Arts and Teaching, Early Childhood Education Early Childhood Certificate, Ages Birth-8 Reading Certificate, Grades K-12 (currently enrolled)
Mrs.

Allyson Grillo Dillon

THE BASICS

Welcome to Room 109! My name is Mrs. Allyson Grillo Dillon and I am 30 years young. This is my third year teaching and at Washington Montessori. I live with my husband, Luke, and our two dogs, Zoe and Sanka. When I am not teaching little minds, I enjoy cooking, baking, reading, walking my dogs, listening to music, and practicing yoga. I enjoy spending time with my family and friends, especially my niece, nephew, and godson. I am thrilled to be your child's Kindergarten teacher for the 2019-20 school year!

MY EDUCATION

In May of 2012, I graduated with a Bachelors of Science in Psychology from Spring Hill College in Mobile, Alabama. In May of 2017, I graduated from Webster University in Saint Louis, Missouri with a Masters of Art in Teaching and Early Childhood Education. In January 2020 I began taking classes for my Reading K-12 Certificate and plan to finish in May 2021.

MY FAVORITES

Food: Pizza

TV Show: The Office

Book: The Velveteen Rabbit

Color: Forest Green

Drink: Coca-Cola

Season: Fall (but the older I'm getting...SPRING!)

Sports: Hockey

Fast Food: Raising Canes

Singer: Lizzo

Hobby: Cooking / Baking

Subject: Reading

Store: Trader Joe's

Candy: Dark Chocolate

Restaurant: Sushi Station

Flower: Lily

Dessert: Dark chocolate
Important Messages
On March 22, 2020 Mayor Lyda Krewson announced a mandatory, 30-day stay-at-home order aimed at preventing further spread of COVID-19. In light of this new restriction, all schools in the City of St. Louis have extended their closures through April 22, 2020. This decision will be continually re-evaluated in coordination with the Mayor's Office and Dr. Frederick Echols, the Director of the City's Department of Health.

The Disctrict, in partership with the City and area charters, has developed a meal program for families. The City has assured us that we can continue to provide grab-and-go-meals at 36 schools in the city. Breakfast and lunch are served Monday through Friday, 8 am to noon. Please visit www.slps.org/meals to see a list of participating sites.

The Academic team has created enrichment packets to encourage continuous learning among students of all grade levels. These packets are available at meal distribution sites, and they are posted online at www.slps.org/keeponlearning.

The District has established a direct hotline for students and parents requiring social and emotional support. The hotline can be accessed by calling 314-345-6900 or via email at studentservices@slps.org.

If you, or someone you know, needs services such as help with utilities, an internet connection for online learning, assistance with seniors, mental health care or free food for pets, visit www.slps.org/resources. New information is being added all the time.
Welcome to Our Online Classroom!💞

Hello Parents!😊

First let me say...YOU GOT THIS!!!

Keeping a daily schedule, similar to the one in our classroom, can comfort your child and ease any fears/uncertainties they may have during our time away from school. A daily routine—knowing what they will be doing and what comes next—is the type of predictability that allows children to self-regulate and learn time-management skills. Parents, a routine can also help you with budgeting time and trying to fit everything in to your day.😉

As we all know, LIFE HAPPENS!

Life doesn't always go as we expected and there is very little that is 'normal' right now. Please don't beat yourself up if you and your child are unable to create a similar routine to school. This is a time for family and bonding (and you have obligations, too!) and whatever schedule you create will be helpful. Just remember, routine is critical.

I have posted some "sample schedules" below. These are simply a guide to help you; get creative! Create something that works for your family. Make a Plan; Make an Effort; Do Your Best!😊

Let me know if you have any questions. I am here for my students AND I am here for you!💗

***********************************************

SAMPLE DAILY SCHOOL SCHEDULES