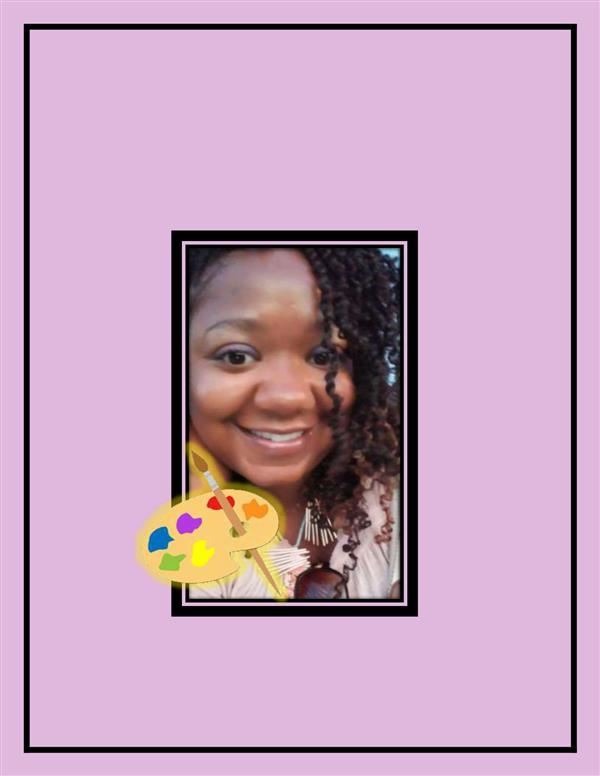 Phone: 314-502-9507
Email:
Degrees and Certifications:
Bachelors of Fine Arts K-12 Art Education Teaching Certification Office Hours Monday-Friday 11:30am-12:30pm
Art with Ms. Williams: The Virtual Art Room 2020-2021

Hello Humboldt Families,

Is it December already? Wow, how time flies! We are reaching our creative goals and accomplishing great things in art class! Want to see what we have been creating? Two of our community partners will be publishing our student work May 7, 2021. Stay tuned!

We started the school year practicing self-reflection and communicating things about ourselves through visual art. It is the way we began establishing a connection and learning things about one another. We took a closer look at how our interests, life experiences, people, and society as a whole, influence the way we see and make art. Specifically, the drawings students created for the district Safety Art Contest shared their voices and perspectives on how to get through the pandemic together. It was an excellent opportunity for students to demonstrate their understanding of real-life influences in art.

Students are practicing thinking out loud and collaborating with their peers. They are learning to understand and appreciate the value of peer learning through class discussions and critiquing sessions. Students share what they like about their peers' artwork, ask questions about what they see or the thought process, and offer feedback. The motive and purpose are to provide perspective. It also helps with revisions as students make changes to their work and strengthen the final piece of art. I often tell the students how important the creative process is. It is more important than the final artwork; it is the substance and where the thick of the learning and growth happens. We are also strengthening our connection as a class and fostering a safe and creative space as we build up and encourage one another during the critiques.

We are looking at lines as one of the essential foundations of art. I teach the students how to break down a piece of art by recognizing the different kinds of lines, line quality, and line relationships used. When we examine the types of lines and the relationships created within a work of art, it helps students understand the different ways they can arrive at the desired outcome. It also helps the students realize their options accessing or approaching their work.

I create several opportunities within a lesson to understand and practice the required technique and skills, with each activity building on the other. Students identified the various lines in their environment, made their line charts to reference, created lines without drawing them through paper folding, and create abstract line design with shapes. Students also learned how to play with background and composition to add interest to their work.

Students create shape and form and learn the difference between 2d, 3d, shapes, and forms using a Concept Attainment method. They are also drawing two-dimensional shapes and three-dimensional forms on paper and manipulating paper, transforming it into three-dimensional abstract forms by adding depth. We are making 3d leaf sculptures as our final project.

Click on the links to the left to access the new Humboldt Related Arts Teacher Schedule, Microsoft Teams Student Training Manual, and other digital resources to support students with virtual enrichment and fun. We are having a fantastic school year, and I am looking forward to the rest of our creative journey.

"The arts are an essential element of education, just like reading, writing, and arithmetic…music, dance, painting, and theater are all keys that unlock profound human understanding and accomplishment."

-William Bennett, Former US Secretary of Education.