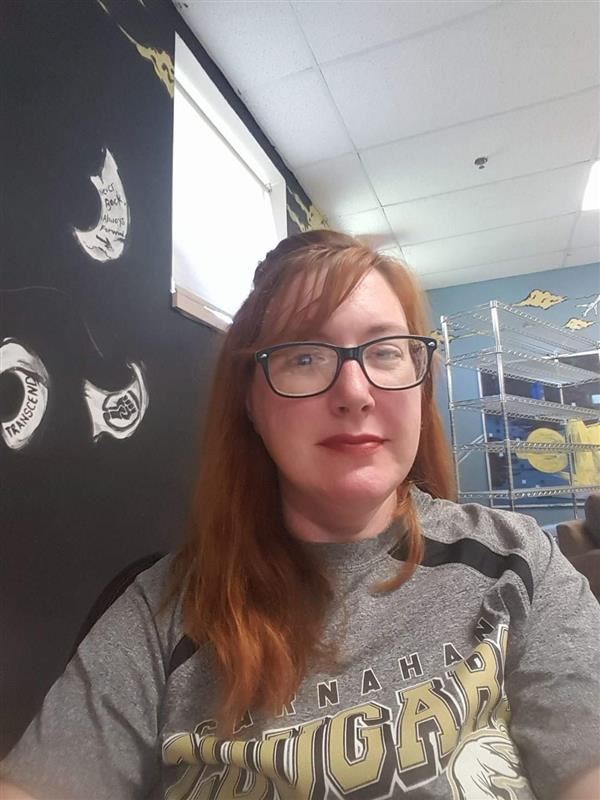 Phone:
Email:
Degrees and Certifications:
B.F.A. painting, Webster University, 1997 M.A.T. communications in teaching, Webster U, 2004
Ms.

Beth Connolly

Welcome to our ART at Carnahan page! I am Ms.Connolly. I hold a B.F.A. in painting from Webster University (1997) as well as an M.A.T. in teaching communications (2004). I have been teaching art around St.Louis for 20 years with a decade spent teaching in the St.Louis Public schools. I was also a product of SLPS. I graduated from Metro High School in 1992. In my spare time, I enjoy painting, reading, taking care of all my pets, and spending time with my husband and eleven year old twins.

I teach all the visual art classes at Carnahan High School of the Future. This year, the classes offered are:

Career Development: a unique sampler class in which freshmen students get to experience four of our pathways at Carnahan: Visual art, Instrumental music, Computer Programming, and Media Communications. The visual arts section that I teach is a beginning level class that gives students a broad introduction to the elements and principles of art and design.

Introduction to Art: a first level art class that introduces students to the elements and principles of art through both traditional learning and by using them in creative projects. In the spring semester, students study a broad survey of international art history and create projects to go with each major civilization or period.

Drawing and Painting: a second level class that focuses on 2D techniques and media. Students learn observational drawing techniques to sharpen their skills as well as gain experience working with various materials.

Sculpture: a third level class that focuses on all things 3D! Students work with paper, wire, plaster, cloth, and clay to build a variety of sculptures and any non-flat art.

Studio art: a third level course that is meant to offer students an opportunity to delve deeper into artistic styles, materials, and build the art portfolio in preparation for college.

AP Studio art: a top level course in which students create top-notch artwork with messages that they want to send and about ideas they want to learn more about. Students in this class will have the opportunity to submit their portfolio of artwork to the CollegeBoard as an AP test. The artwork will be judged and depending on their score, students may earn college credit.

Virtual Learning Information

If you would like to reach me for help with a project, questions, or just to say hello, my email is elizabeth.connolly@slps.org

Please go to the virtual learning tab for more information and links.