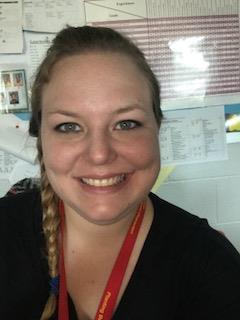 Phone:
Email:
Degrees and Certifications:
Ms.

Adrienne Schlake

Hi! My name is Adrienne Schlake. I teach Wilkinson's preschool special education classroom, in room 112. This is my twelfth year working in a school with early childhood students, and my seventh year as a certified teacher leading a classroom (I have been with SLPS for four years). I love being a Wilkie Bear and am super excited that my son is a Wilkie Bear, too! I am excited to see my returning students and meet any new friends for this school year.

Some fast facts: I love Halloween, teal, reading, and coffee!

Due to our additional break from school following this week's Spring Break, I have added some learning from home information here and will continue to add to my posts on our classroom Bloomz app. Please reach out with any questions. I recommend trying to uphold a schedule as much as possible, using visuals to show the schedule when you can and to encourage choice making, and get outside for walks or play when you can. Read and play with your child, these are important learning activities!

Please check out my "assignments" page for a large list of activities for kids and resources for parents. I am also uploading educational videos of myself for the kids to watch that will be linked on the assignments page and Bloomz.

Play that encourages joint attention and turn taking is one of the best things you can do for your child. Give them two or three choices and let them pick the toy, gain their attention with pauses in the play, and interact with them and the items. Take turns leading the play and don't be afraid to be silly or to take charge of the materials from time to time. Shared control is good for communication and social development.

As always, encourage and honor communication. Encourage your child to use common signs such as more, my turn, and finished. Require verbalizations, signs, or pointing when making choices and requests. If your child has an AAC device use it! Model communicating with it and honor what they say when they use it.
I am looking forward to seeing the kids again when possible and of course hope you all stay WELL!

Some extra resources:

Visit https://l.ead.me/bbTE3n to download a free visual pack for home use in pdf form, created by Easter Seals Illinois Autism Partnership.

Epic! is an app we use in class that has wonderful read aloud for students, and books for older children as well. I am emailing our join information to parents if you want to take advantage of a free 30 day trial.

SLPS is posting updates such as when and where to receive meals from the district on the website, as well as instructional materials

Jack Hartmann Kids Music Channel on YouTube has wonderful alphabet songs, we were listening to the letter I songs last week in class and we will be missing letters P and X while out of school. Please listen to and sing along with the videos, practicing signing the letters and drawing the letters in the air like Jack does. He has a variety of other educational songs your child can benefit from as well!

Have your child trace lines, shapes, free draw, and attempt to trace their names daily or as often as possible, we normally do this every morning in class. You can do this on paper, in shaving cream, in the bathtub with bath paint or crayons, in play dough using toothpicks or plastic knives as writing utensils, etc.

Matching, sorting, and color identification games, puzzles, and activities are good practice.

Count with your child, when playing with blocks or other toys, or count their snack as you are giving it to them and as they eat it.