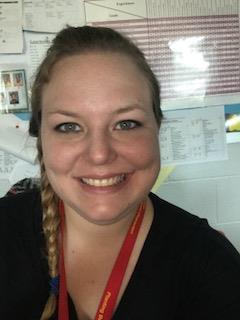 Phone: (314) 645 1202
Email:
Degrees and Certifications:
Ms.

Adrienne Schlake

Welcome to the 2021-22 school year! My name is Adrienne Schlake. I am excited to work with you and your child. I know that we will have lots of great learning experiences together, I LOVE being a Wilkie Bear and am super excited that my son is a Wilkie Bear, too!

You can reach me at Adrienne.Schlake@slps.org or on Class Dojo and Teams.

I teach Wilkinson's preschool special education classroom, in room 112. This is my sixth year teaching this setting. Before that I taught general education preschool for three years, and before that I had five years of wonderful experiences as a teaching assistant in a variety of special education and Title 1 classrooms.

Some fast facts:

I love Halloween, teal, reading, plants, and coffee!

Magnets, plants, and bookmarks are my favorite little things to impulse buy.

I have a Bachelor's degree in Early Childhood Education; a Masters in Education, Autism Spectrum Disorders; am certified to teach Early Childhood Education, Early Childhood Special Education, and Elementary Education; and I am completing School Psychological Examiner Certification this school year.
Some tips for facilitating learning at home...

Please check out my parent/caregiver resources page for a variety of resources for parent education and visuals to help you work with your child. My assignments page has a large list of extra videos and activities if you want to supplement what we are working on in class. Quick links to sites we use are under my virtual learning page!

I recommend trying to uphold a schedule as much as possible, using visuals to show the schedule when you can and to encourage choice making, and get outside for walks or play when you can. Read and play with your child, these are important learning activities!

Play that encourages joint attention and turn taking is one of the best things you can do for your child. Give them two or three choices and let them pick the toy, gain their attention with pauses in the play, and interact with them and the items. Take turns leading the play and don't be afraid to be silly or to take charge of the materials from time to time. Shared control is good for communication and social development.

As always, encourage and honor communication. Encourage your child to use common signs such as more, my turn, and finished. Require verbalizations, signs, or pointing when making choices and requests. If your child has an AAC device use it! Model communicating with it and honor what they say when they use it.


Stay WELL!