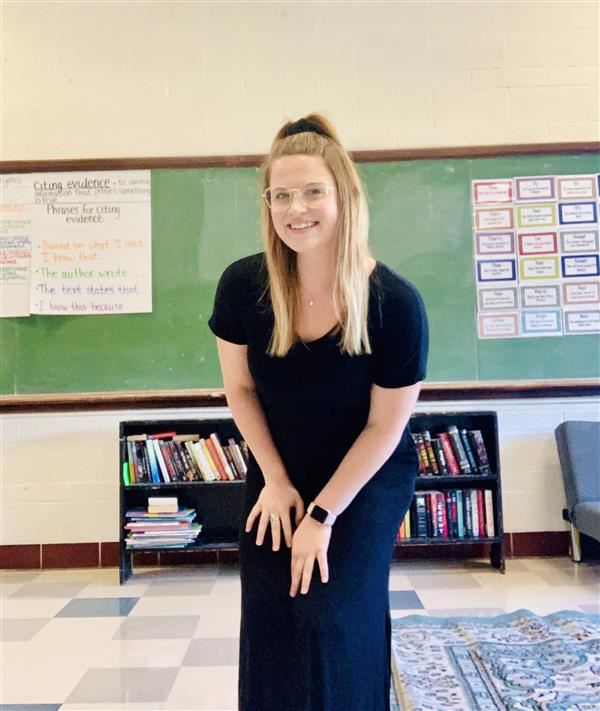 Parent Teacher Conferences

3/16/21

Topic: Ms. McKee's Parent Teacher Conferences Zoom Link

Time: Mar 16, 2021 01:15 PM Central Time (US and Canada)

Join Zoom Meeting

https://us02web.zoom.us/j/87163469699?pwd=WEt3K1F0eFdtdEF6eXJobEFnOW54UT09

Meeting ID: 871 6346 9699

Passcode: 2z0t8p




3/17/21

Topic: Ms. McKee's Parent Teacher Conferences Zoom

Time: Mar 17, 2021 01:15 PM Central Time (US and Canada)

Join Zoom Meeting

https://us02web.zoom.us/j/86255063394?pwd=a0tKM0Q4V3JxZ3QwMkJ0YUV0NWcxdz09

Meeting ID: 862 5506 3394

Passcode: VBjJ0A

Ms. Alison Hannegan McKee (Ms. McKee)

Gateway STEM High School

Special Education Teacher and Athletic Director's Assistant

SPED/Literature Department

Room Number: 300S, Extention: 13010, Email: alison.hanneganmckee@slps.org

Virtual office hours: A-days: 3rd period (11:55am-1:25pm)

Welcome!

Hello, Jaguars! Welcome to the 2020-2021 virtual school year! There is much to do and even more to learn, but remember that your teachers and the rest of the Gateway STEM school staff are here for YOU!

Virtual learning can seem like a lonely journey, and, of course, it is hard to have a positive mindset when you anticipate the feeling of being alone. No matter if you are a student, teacher, parent, or administrator, you must remember that we are all in this together. This is a time for communication and community, and for any student to be successful, the students, their teachers, their parents, and their administators must do their part. It is our honorable duty as members of this community to rise to the occasion, to be resilient, to be an active member of the team. This does not mean that we must be perfect-- to be perfect is impossible. There will be days when the technology isn't working, that a student just can't seem to grasp a new skill, and days where everyone is just simply exhausted from sitting in front of a screen all day and they feel like they don't have the energy or the attention span to even attempt their work for the day. And that's okay. It is okay for us to be overwhelmed, confused, and/or drained. We're human. But it's not okay to quit. Someone once told me that quitting is the easiest thing to do but it is the hardest habit to break. Once you start quitting, its almost impossible to stop. So, don't quit--rise to the occasion, be resilient, be a team player, and accept that there will be hard days, but remind yourself that there will also be good days. There will be really incredible moments shared and memories made and growth achieved if everyone does their part. And on the hard days when you don't feel like you can rise up, resile, or do your part, then please, reach out to for support. That is the beautiful thing about community, you give where you can and you take what you need, and when everyone does their part, there is plenty for everyone to have their fill.

Teacher Biography

My name is Alison Hannegan McKee, or as the students call me, Ms. McKee. I am a special education teacher at Gateway STEM High School. It is my third year at Gateway STEM and I will be teaching Resource World Literature and Resource American Literature. It is such an honor to be able to work with your children and be a member of the St. Louis Public Schools' family.

I graduated in May 2018 from Southeast Missouri State University, recieving my Elementary Education (1-6) and Special Education (K-12) certifications. When I'm not teaching, I am exploring the gems of St. Louis, hiking/traveling, trying new foods, digging into a good book, writing, or spending time with my large family.

I am so excited to be a part of your child's education. If you have any questions about me or ways to help your student further succeed, please do not hesitate to contact me! My email is alison.hanneganmckee@slps.org, I check my email a minimum of twice a day and will get back to you as promptly as possible!

How to Access Microsoft Teams

Below are the links for each class period's Microsoft Team page to use during distance learning. Click the link for the class period you belong to! Assignments are posted on Microsoft Teams as well as here on the virtual learning link which you can find to the left on your screen.