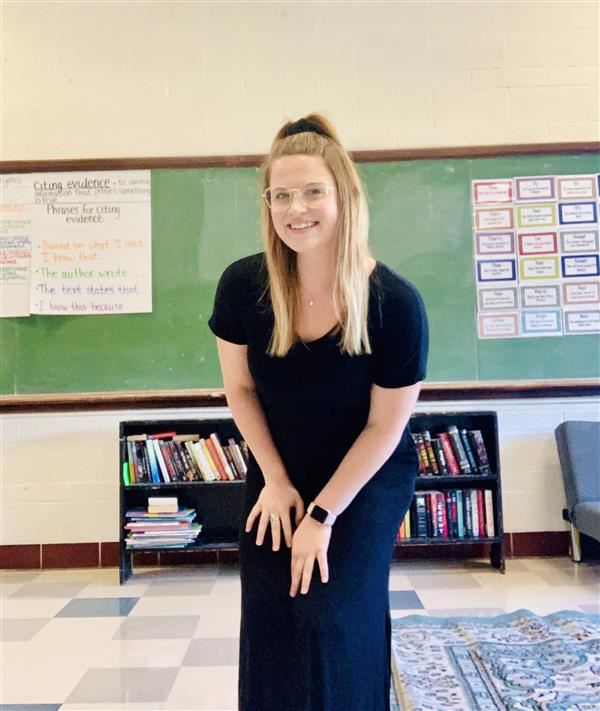 Introductory videos to MS Teams and how to sign on can be found here!
Warning Bell - 7:05AM

1-Minute Warning Bell - 7:09AM

A-DAY (Monday, Wednesday, & alternating Fridays)

1) 7:10AM -8:43AM

2) 8:48AM -10:21AM

3) 10:26AM - 12:29PM (also lunch period)

4) 12:34PM - 2:07PM

B-DAY (Tuesday, Thursday, & alternating Fridays)


5) 7:10AM -8:43AM

6) 8:48AM -10:21AM

7) 10:26AM - 12:29PM (also lunch period)

8) 12:34PM - 2:07PM

Dismissal Bell - 2:07PM

Activity Bell - 2:15 PM
Ms. Alison Hannegan McKee (Ms. McKee)

Gateway STEM High School

Special Education Teacher/IEP Case Manager

SPED/English Department

Room Number: 300S, Extention: 13010, Email: alison.hanneganmckee@slps.org

Welcome!

Hello, Jaguars! Welcome to the 2021-2022 school year! There is much to do and even more to learn, but remember that your teachers and the rest of the Gateway STEM school staff are here for YOU! Since March of 2020, SO much has changed in the world of education, but one thing that has not changed is my dedication and excitement for teaching students at Gateway STEM High School. I am sure there will be an adjustment period for students, parents/guardians, teachers and administrators as we begin yet another new approach to student learning and growth, but I am comforted by remembering the things that will not have changed. There will be the usual hum and buzz in the hallways between classes, the familiar smell of fresh pencils and paper, the comfort of community. While we may be using computers in the classroom more than ever and will be wearing masks from the day's start to the day's end, I believe that we will all welcome the return of our routines. There will be days that will be harder than others, and on the hard days, remember that you can, and should, reach out for support. Whether you are a student, parent/guardian, teacher or administrator, you are a part of this community. That is the beauty of community-- you give where you can and you take what you need, and when everyone does their part, there is plenty for everyone to have their fill.

Teacher Biography

My name is Alison Hannegan McKee, or as the students call me, Ms. McKee. I am a special education teacher at Gateway STEM High School. It is my fourth year at Gateway STEM and I will be teaching Resource World Literature and Resource American Literature. It is such an honor to be able to work with your children and be a member of the St. Louis Public Schools' family.

I graduated in May 2018 from Southeast Missouri State University, recieving my Elementary Education (1-6) and Special Education (K-12) certifications. When I'm not teaching, I am exploring the gems of St. Louis, hiking/traveling, trying new foods, digging into a good book, writing, or spending time with my large family or my recuse dog Pickles!

I am so excited to be a part of your student's education. If you have any questions about me or ways to help your student further succeed, please do not hesitate to contact me! My email is alison.hanneganmckee@slps.org, I check my email a minimum of twice a day and will get back to you as promptly as possible (usually within 24 hours, in exception to weekends/holidays)!