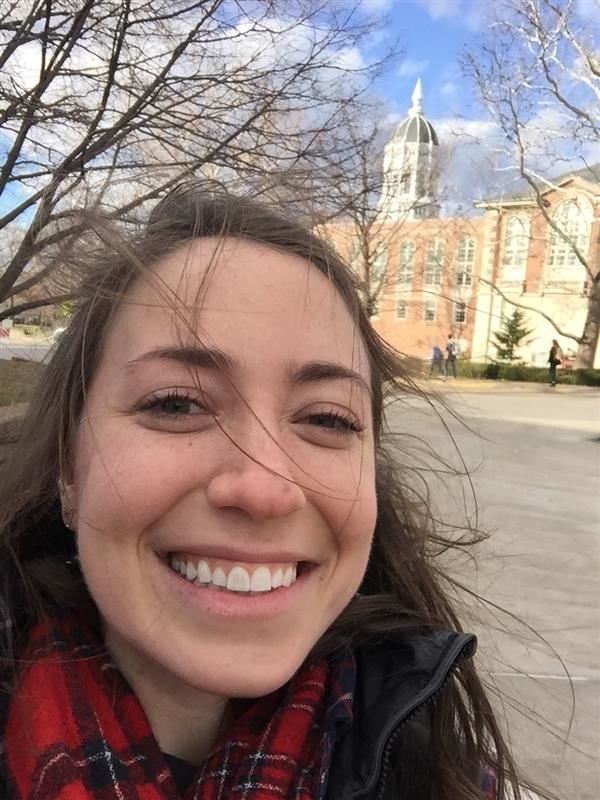 Phone: 314-328-9125
Email:
Degrees and Certifications:
Miss

Abigail Eisenberg

Hey Carnahan family! Thank you for welcoming me here for my second year of teaching! I teach English 3, ACT Prep and Creative Writing and am sincerely so excited to be helping students at Carnahan this year discover the power of their voice and of telling their stories. I hope to be a resource for all my students in their growth this year. Before coming to Carnahan in 2018, I worked for years at a daily newspaper as an education reporter in Minnesota and as a mentor at a local college access organization here in St. Louis. I was born and raised in the St. Louis area and I love that it's my home. I'm also a proud graduate of the Mizzou School of Journalism (M-I-Z!). When I'm not at school, you can usually find me walking my dog Ruby in Tower Grove Park. Again, thanks for welcoming me so warmly to the Carnahan family! I'm looking forward to a great year.

Please feel free to contact me at abigail.eisenberg@slps.org or 314-328-9125 (text or call).

COVID-19 UPDATE!

Dear students and families,

I hope you are all healthy and making the best of this difficult time. While we are distance learning, I will be using Microsoft Teams to deliver content and collect assignments. Staff will be in touch with more specific directions, if you need them, on how to access teams, but the short of it is:

1. Go to office.com
2. Type in your username@slps.org
3. Type in your password
4. Username is first initial, then first seven letters of last name (or if you do not have seven you would just include your whole last name) plus four numbers associated with the username @slps.org.

Students username for logging onto your email should look something like aeisenberg1111@slps.org, if you had my name! Password is same as usual for logging into computers at school. Parents and/or students, if you have questions, or just can't get logged in, please contact me at abigail.eisenberg@slps.org or 314-328-9125.

HOW TO REACH ME/ACCESS WORK FOR MY CLASSES:

I will post new assignments to Teams for all classes each week by 8 a.m. Monday. The work, unless indicated otherwise, will always be due by 11:59 p.m. the following Sunday. I am readily available for questions and support from 8am -3pm every weekday via Teams, email and phone. My email address is abigail.eisenberg@slps.org and my number is 314-328-9125 (text or call). If you contact me outside of those times, I will get back to you within 24 hours.

Classroom Teams Links:

OTHER RESOURCES:

We ask families to monitor our website for updates. Resources available to SLPS families at this time include the following:

COVID-19 FAQs: www.slps.org/covidfaqs
FREE MEALS FOR STUDENTS: www.slps.org/meals
ACADEMIC MATERIALS FOR FAMILIES: www.slps.org/keeponlearning
ADDITIONAL RESOURCES: www.slps.org/resources

The District's direct hotline for students and parents requiring social and emotional support is: 314-345-6900 or studentservices@slps.org.