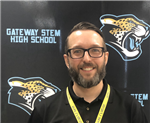 Phone: 314-776-3300, ext. 14160
Email:
Degrees and Certifications:
A.S. Business Management; Rend Lake College (1998) B.A. Economics; Eastern Illinois University (2000) M.S. Workforce Education and Development; Southern Illinois University-Carbondale (2007)
Mr.

James Boone, M.S.

2021-2022 Parent/Teacher Conferences

Hello parents/guardians to our fall conferences! The dates and times and will be held virtually.

Please click on the following link to setup your appointment time.

* Monday, October 18th 2:15-4:45 pm

* Tuesday, October 19th 2:15-4:45 pm

Link to Parent Teacher Conference Sign In for Mr. Boone
___________________________________________________________________________________
Welcome
Hello all student's and families. I look forward to beginning 2021-2022 school year! Please use the information on this page to assist you with your needs.
---
Biography
My name is James Ryan Boone. This is my third year as a Career and Technical Education (CTE) Teacher at Gateway STEM High School. I teach Introduction to Business and PLTW Computer Science Principles. I have nine years previous experience teaching at Carbondale Community High School in Carbondale, IL. In my previous experience, I taught Business and Technology, Keyboarding, Computer Concepts, Computer Programming, and 3D Animation. I was an FBLA (Future Business Leaders of America) Adviser for five years, Assistant Baseball Coach for one year, and Assistant Bowling Coach or 4 years.
---
Contact Information

Mr. Boone can be reached at james.boone@slps.org or by phone at 314-776-3300, ext. 14160. Mr. Boone is available for online appointments from 9:55 am - 11:25 am on Tuesdays and Thursday. For appointments outside these hours, please email me at least 24 hours in advance.
---
INSTRUCTIONAL AND TECHNICAL SUPPORT INFORMATION:
GETTING STARTED:
If at anytime you experience a technical problem (that is a problem with accessing a webpage or problems with your computer) email techhelp@slps.org for assistance - DO NOT EMAIL YOUR TEACHER FOR TECHNICAL SUPPORT

All assignments and due dates are posted in MS Office 365 software, MS Teams (application), Trinket.io/Repl.it, and Cengage Learning Management System. If you do not have access to MS Office 365, please CLICK HERE to download instructions that will allow you to download a free version. Click here to watch a video on Microsoft Teams Tuturial
To access Cengage Learning Mangement - CLICK HERE.
The links to the TEAMS websites for the Introduction to Business and PLTW Computer Science courses are shown below:
Microsoft Teams
Click the link below for a video tutorial on Microsoft Teams.
Additional Languages for Microsoft Teams Tutorial
How to Log into Teams-Vietnamese