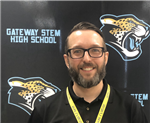 Phone: 314-776-3300, ext. 14160
Email:
Degrees and Certifications:
A.S. Business Management; Rend Lake College (1998) B.A. Economics; Eastern Illinois University (2000) M.S. Workforce Education and Development; Southern Illinois University-Carbondale (2007)
Mr.

James Boone, M.S.
Parent-Teacher Conference Sign Up
Click on the following link to sign up for Parent-Teacher Conferences.
Hello!
We are scheduling our annual Parent Teacher Conference. We will discuss any questions you have pertaining to attendance, grades, or technology. Please complete the request below to schedule your meeting. I will confirm via email your date and time for the meeting. PLEASE SELECT TWO MEETING OPTIONS THAT WORK FOR YOU. Thank you very much and look forward to meeting with you soon!
https://forms.office.com/Pages/ResponsePage.aspx?id=az3jCFSmakiA4yCxkK4i141h_SGFIkRLlr5XbPHyGplUMVc0SEpPSDFZMFo0NlJKVlNPUDJBWlRCOS4u
In order to accommodate as many parents as possible, conferences are limited to 10 minute blocks. If you are unavailable to meet during parent conferences, I'm happy to try to accommodate you; simply indicate what day(s) and times work best for you, and your phone number. Thank you for your time, and I look forward to speaking with you! Sincerely,
James Ryan Boone
Gateway STEM High School
Business Teacher
5101 McRee Ave
St. Louis, MO 63110
(314)776-3300, ext. 14160
james.boone@slps.org
---
Welcome
Hello all student's and families. I hope all of you are doing well during this time of uncertainty. I look forward to beginning 2020-2021 school year Virtual Learning, please use the information on this page to assist you with your needs.
---
Biography
My name is James Ryan Boone. This is my second year as a Career and Technical Education (CTE) Teacher at Gateway STEM High School. I teach Introduction to Business and PLTW Computer Science Resources. I have nine years previous experience teaching at Carbondale Community High School in Carbondale, IL. In my previous experience, I taught Business and Technology, Keyboarding, Computer Concepts, Computer Programming, and 3D Animation. I was an FBLA (Future Business Leaders of America) Adviser for five years, Assistant Baseball Coach for one year, and Assistant Bowling Coach or 4 years.
---
Contact Information

Mr. Boone can be reached at james.boone@slps.org or by phone at 314-776-3300, ext. 14160. Mr. Boone is available for online appointments from 9:55 am - 11:25 am on Tuesdays and Thursday. For appointments outside these hours, please email me at least 24 hours in advance.
---
INSTRUCTIONAL AND TECHNICAL SUPPORT INFORMATION:
GETTING STARTED:
If at anytime you experience a technical problem (that is a problem with accessing a webpage or problems with your computer) email techhelp@slps.org for assistance - DO NOT EMAIL YOUR TEACHER FOR TECHNICAL SUPPORT

All assignments and due dates are posted in MS Office 365 software, MS Teams (application), Trinket.io/Repl.it, and Cengage Learning Management System. If you do not have access to MS Office 365, please CLICK HERE to download instructions that will allow you to download a free version. Click here to watch a video on Microsoft Teams Tuturial
To access Cengage Learning Mangement - CLICK HERE.
The links to the TEAMS websites for the Introduction to Business and PLTW Computer Science courses are shown below:
Microsoft Teams
Click the link below for a video tutorial on Microsoft Teams.
Additional Languages for Microsoft Teams Tutorial
How to Log into Teams-Vietnamese