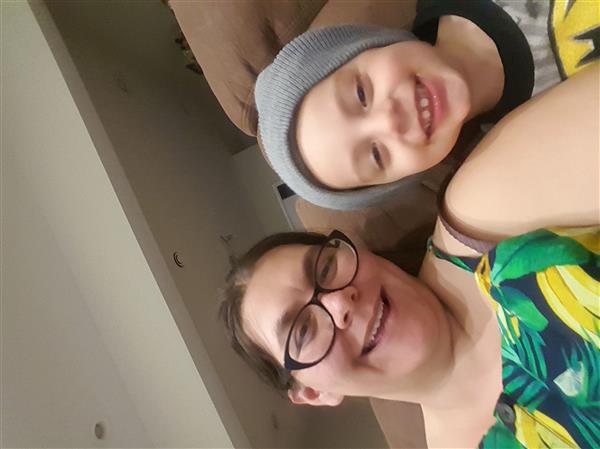 Phone:
Email:
Degrees and Certifications:
Mrs.

Amanda Zurfluh

Hello, my name is Amanda Zurfluh. I graduated from the University of Missouir-St Louis in 2017 with a degree in Elementary Education 1-6 as well as a certificate in teaching TESOL (Teaching English to Speakers of Other Languages). I have also recently graduated from Missouri Baptist University with a Master's Degree in Educational Technology. I spent my first 2 years teaching EL students in a small group setting. This year I will be teaching 1st grade students in a whole class setting. I did my student teaching in the Parkway School District.

I have been married for 5 years to my husband Fred. We have one son (Freddie) and are currently expecting another child. When not teaching or finding ways to improve my teaching, I enjoy cooking, going on walks with my family, embroidery and playing games with Freddie. I also enjoy going to places around St Louis like the Zoo, Science Center, Forest Park, and other locales. My favorite color is black and my favorite animal is a penguin.

Please feel free to contact me with questions. My email is amanda.zurfluh@slps.org
Good morning,

I will be sending out invites to our first class meeting tomorrow later on today. I have not had many responses to our survey. If you have indicated a preferred time, I will send you just the invite to that time, otherwise I will send you an invite to the three different times I will be available, just choose the meeting that goes best with your schedule. I will also be posting some fun family activities below, as well as the next set of work if you are ready for it. If you are not, please just work on the assignments that end on Friday. Also our EL teacher, is creating optional assignments for our students. I will be linking those to my teacher page as well.

Q-tip art can be completed with any art project you may have in mind and you can make paint at home if you don't have it. Google has plenty depending on what you have in the house.

Good morning families,

As you heard last night via the SLPS robocall, we will not return to our physical school buildings this year. We will continue to learn with virtual learning. With that being said, I what you to know how heartbroken I am that I will not get to finish out this amazing year with your students. I am sad for the field trips we weren't able to go on, the activities that we had planned that won't get done, and the chance to see their faces as we are learning new concepts. I am angry at the way the end of this year is playing out and I feel that these kids are being cheated. I ranted and raved at Mr Zurfluh about it last night after I got over the tears and then I baked my feelings. Freddie was ecstatic as he loves baking with mommy. He got to make from scratch brownies, cookies, banana bread, and more. Mr Z says we're trying to make him fat and he's right. So the first thing that I am going to ask all of you to do is take the time to let your children process their feelings about not being able to return to the school before the end of the year. Let them know that I love them and miss them as do all of their other teachers at Dewey.

After the processing is complete, we will take the time to get down to the nitty gritty of learning. I am going to put out this information in several little bullet points below this line.

-Grades are frozen at the third quarter grades. This means that the grades they had at the end of the third quarter are being carried over. Any work that they complete now will only help them.

-I am extending out this first week assignments. Those who have completed them have done an excellent job on quizzes and the worksheet in science. I will be posting weekly fun activities that can be completed at home that are not worth a grade, I will also be posting next week's assignments so that those who are complete can continue to work.

-I am wanting to do online class meetings. I am sending out a Microsoft Form so that you are able to provide feedback on the times that would work best for you. Parents are required to be present when we have these meetings. These meetings will be a chance to see each other, visit, and hopefully teach science to take one more thing off of your plates.

-Our building EL teacher is adding optional assignments to our Teams page and I will be adding them to my teacher page so that any students who wish may complete them. They will typically be read alouds that she has taped that she believes our students would enjoy.

-My office ours are from 10-12 daily. I will answer any questions via text, e-mail, Class Dojo, or phone call outside of those hours, however, I may not be able to immediately answer those questions, but will respond to you.

Now onto the more exciting things. On Dojo, I will be adding the pictures of the graph and what baby Zurfluh is. At the beginning of the week, I let everyone know that we have 9 votes for girl and 4 votes for a boy. The results are that baby Zurfluh is a boy!!!

Have a safe weekend and enjoy the time with your families,

Mrs. Zurfluh

To celebrate our first week of virtual learning here is the Spirit Week ideas:

Monday-Pajama Day

Tuesday- Picture of your pet or a pet you wish you had

Wednesday- Wear your favorite team wear

Thursday- School Spirit Day, wear your Dewey swag

Friday- Dress for Success, dress for the job you want.

Good morning parents,

I am reaching out to you to let you know some information.

Starting April 6, I will be posting assignments and videos to my teacher webpage. All assignments will be due on Friday. There will only be an hour or two of work for each subject area per week. Please feel free to follow this link, to see the page and get familiar with the layout.

The technology department is asking that you complete this survey of your technology needs.

If you need access to the internet, Charter is offering free 60-day access, please contact this number 844-488-8395 .

I will also be sending out updates on Monday and Thursday/Friday. These may be about spirit days I'd like the class to do, class meetings using Microsoft Teams or Zoom, or feedback on assignments that have been turned in. These e-mails will also include any updates from the district that pertain to my families that I may be able to provide to you.

I have also attempted to contact all parents for updated contact information. If you didn't answer the phone call to check in, I sent you either a text message or a ClassDojo message. Please if there are any updates that are needed reach out to me so I can get that information to the correct parties.

Please reach out to me with any questions.

Good morning,

I have given myself some assignments for the next few weeks to become a better teacher. I will be reading the three books pictured below to better aid our students when we come back to school.

Today I am going to teach Freddie how to make muffins. I will post pictures tomorrow.

Please have your students answer rather they think Ms. Z is having a boy or a girl on our form. I left the work from before break at school so would like to make a new chart for them.

Have a safe week!

Ms. Z

Hello,

I wanted to reach out and let you know that the district has work prepared for the students for the next two weeks.

There are two possible ways to obtain the work. The first is by visiting the district website and clicking the red exclamation point. There you can find the list of work forhte students.

If you are interested in a grab and go breakfast and lunch option for your student please click that red exclamation point and you can find the closest meal site to you.

At the meal sites the district will also have the work available for your students.

Please feel free to reach out with any questions or concerns!