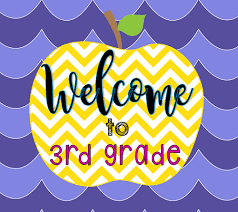 Phone:
Email:
Degrees and Certifications:
Welcome to Peabody Elementary's 3rd Grade Class

3rd grade is an exciting grade where students transition to using more complex concepts, skills, and strategies across each content area, to make deeper connections to learning. In addition, students will begin taking state assessments. In order to prepare students for success in 3rd grade, the following is an outline of curriculum and instructional goals throughout the year.

Reading

By the end of the year students will…
Read many types of stories and describe what happened, how the characters were affected and what lessons they learned.

Answer questions about reading material that covers history, social studies and science; also use information in illustrations, maps and charts to help answer questions.

Give a class presentation on a topic using facts, details and specific vocabulary.

Participate in discussions by speaking clearly, listening, sharing opinions, building on other people's ideas and asking questions.

Use dialogue and description to write about what a character is thinking and feeling.

Gather information from online sources in addition to books and articles; use that information to write research papers.
Math
By the end of the year students will…
Develop an understanding of multiplication and division and strategies for multiplication and division within 100.

Develop an understanding of fractions, especially unit fractions (fractions with numerator 1).

Develop an understanding of the structure of rectangular arrays and of area.

Describe and analyze two-dimensional shapes.
Science
By the end of the year students will…
Develop an understanding of the idea that when the environment changes some organisms survive and reproduce, some move to new locations, some move into the transformed environment, and some die.

How organisms vary in their traits and how plants, animals, and environments of the are past similar or different from current plants, animals, and environments.

Determine the effects of balanced and unbalanced forces on the motion of an object and the cause and effect relationships of electric or magnetic interactions between two objects not in contact with each other.

Apply their understanding of magnetic interactions to define a simple design problem that can be solved with magnets.

Understand the impact of weather-related hazards and how humans can reducethese factors.
Social Studies
By the end of the year students will…
Preserve democratic ideals, to become a contributing member of society, to understand current events, and to acquire skills needed to investigate, interpret, and apply information.
Focus Areas:
Physical Features of Missouri

People of Missouri

Missouri and the Civil War

Government of Missouri
Learning and Growing in 3rd Grade