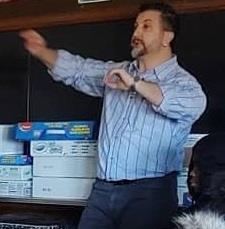 Phone:
Email:
Degrees and Certifications:
Biography: Mr. Blevans has been teaching in the St. Louis Public School District since 1999. He holds a Bachelor of Arts Degree (BA) with an awarded Emphasis in the Fine Arts from the Evergreen State College, a Masters of Art (MA) and a Master of Fine Arts Degree (MFA) from the University of Wisconsin-Madison, and a teaching certification from Maryville University. Mr. Blevans has six sons; two grown-up, one in high school, one in middle school and two in elementary school.
Seth Blevans

Welcome to Mr. Blevans' VIRTUAL ART CLASS

Parents and students –

First of all I want to express that I and your teachers miss you and hope you are all healthy and safe! I also want to apologize that we have to work together in this virtual format but we will learn and excell!

What Mr. Blevans is responsible for:

1. I will updated this page each week, so look for new and exciting art projects.

2. I will grade your submitted art projects and give you feedback!

3. I wil respond to your emails and answer each of your questions to the best of my ability.

What You are responsible for:

1. You will log on to your Teachers' Page and read it each day.

2. You will complete assigned one (1) art project a week and email me a picture of it to be graded!

3. You will email me if you have any questions and respond back to emails sent to you by your teacher.

Important information:

Contact me at: seth.blevans@slps.org

Office Hours (you can email me any time, but I will respond right away during these times/dates!)

TUESDAY- 9:00 a.m. to 11:00 a.m.

THURSDAY- 9:00 a.m. to 11:00 a.m.

HOW TO USE MICROSOFT TEAMS VIDEO #1- https://youtu.be/7UEYoTU10zc

HOW TO USE MICROSOFT TEAMS VIDEO #2- https://youtu.be/7UEYoTU10zc

Mr. Blevans' Classroom Microsoft Teams LINK-

https://teams.microsoft.com/l/team/19%3ad164d21473a94d6dbf99b599f3898956%40thread.tacv2/conversations?groupId=59f5045f-d23f-446f-80bc-c758375357a5&tenantId=08e33d6b-a654-486a-80e3-20b190ae22d7

St. Louis Public School District's Web Page- https://www.slps.org/Page/18590

Shenandoah Students and Parenets- PLEASE LOOK AT YOUR GRADE LEVAL HOMEROOM TEACHER'S MICROSOFT TEAMS PAGE FOR ART PROJECTS AND DUE DATES!
Please use this link to complete a family technology survey: http://www.slps.org/tech
Technology inaccessible? All food distribution sites have continued learning packets available for pick up as well.
You can view the packet HERE
This weeks assignments (MAY 11-13TH)
Pre-K-2dn Grade-Pre-K- 2nd Grade- Part 1Part 2