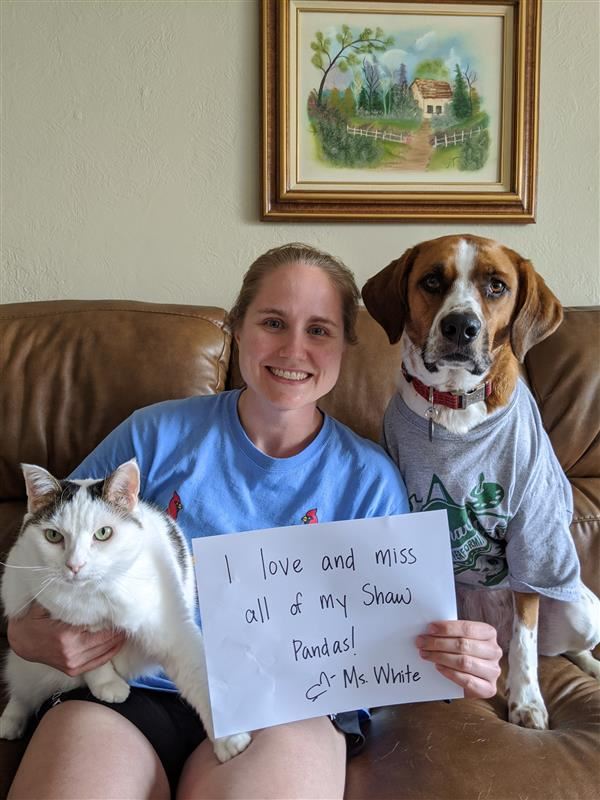 Phone:
Email:
Degrees and Certifications:
Jennifer White

Hi Shaw Families!

As your school social worker, I wanted to update you on some resources that are available in our community during this time. I will continue to update it as I become aware of new resources, so please check back. As always, if you have any questions or concerns, please contact me!

jennifer.white@slps.org

Office Hours: 9 AM - 1 PM, Monday-Friday

Helpful Resources
**Important Update Regarding the Pandemic Meal Program**
The mobile food market schedule for this week is:
Monday, May 18
2 PM: Bailey Foundation (8333 Fullerton Ave)
Tuesday, May 19
11 AM: Trinity Church (3515 Shackleford, Florissant)
Wednesday, May 20
10 AM: Affinia South Broadway (3930 South Broadway)
10:30 AM: Nurses for Newborns (7259 Lansdowne)
11 AM: Spanish Lakes (11840 Bellefontaine Rd)
Thursday, May 21
11 AM: AJR Community Outreach (3311 Pennsylvania Ave)
1 PM: All Nations Resource Center (6815 Page Blvd)
Friday, May 22
9 AM: Affinia Healthcare1717 Biddle St
10 AM: People's Health (5701 Delmar Ave.)
10 AM: Walbridge Elementary School (5000 Davison Ave.)
3 PM: First Baptists of St. John (8665 St. Charles Rock Rd)
There is not a sign up for these events. First come, first served.
Social Emotional Support Resources
SLPS is offering emotional support services for SLPS student and parents at 314-345-6900 or studentservices@slps.org
Go Noodle (Check out the SEL & Mindfulness category to help your child learn important skills about stress management and more!)
Supporting Kids During the Coronavirus Crisis

The National Child Traumatic Stress Network
Why can't I go to school? -- Social story by Conscious Discipline on how to explain Covid-19 to very young children.
Community Resources
St. Louis County Library Diaper Drive
St. Louis County Library Meal Plan