Welcome to 6th Grade Math at Long International Middle School!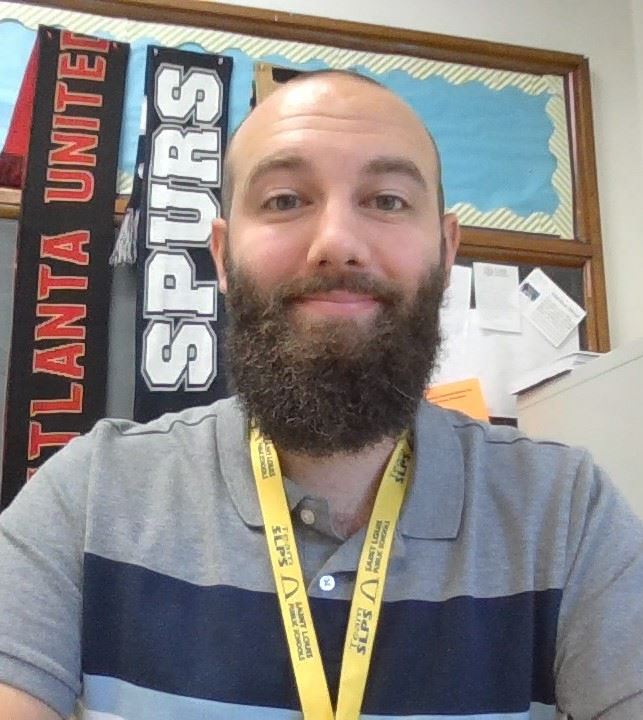 Current 2021-2022 schedule:

Period 1: 7:17-8:15am Math 6

Period 2: 8:18-9:18am PLAN

Period 3: 9:21-10:21am Math 6

Period 4: 10:21-11:54am LUNCH/Advisory 6

Period 5: 11:57-12:57pm Math 6

Period 6: 1:00-2:00pm Math 6

DISMISSAL: 2:00-2:12pm
I would like to personally welcome you to the 2021-22 school year at Long International Middle School (LIMS)! I am Mr. Erbe- your student's sixth grade math teacher for this school year. Like our sixth graders, I am new to Long this year and am really excited to get to know everybody! I previoulsy taught 5th Grade Math at Mullanphy ILC Elementary and am part of the Saint Louis Teacher Residency and am working on my Master's Degree at Washington University in Saint Louis.

I have lived in St. Louis for one year and I love it so far! I have lived all around the United States, but more recently lived in Birmingham, Alabama for 7 years where I graduated from the University of Alabama at Birmingham (UAB) in 2017. I live with my fiancée Gaby, and my dog Mario. I love to be active and get outside whenever I am able to. Some other hobbies of mine include: playing music, cooking, reading, and watching sports or movies!


In the classroom, I like to focus on learning math in lots of different ways. Math is all around us, and I try to relate it to my students' lives often. Much like life, our class is a mix of work that needs to be done, and fun experiences that will ideally shape a positive outlook on math, and school overall. To create an environment that is inclusive, safe, and educational for ALL of my students I ask that everyone (including all adults) in my room follow these expectations:


Show Respect:

To others, t

o ideas, and t

o yourself

Come to Class Prepared: T

o learn, t

o participate, and t

o do your best

Communicate: a

sk questions, r

espond when asked, and b

e transparent and honest

One of the most important things to me is to keep an open communication line with my students and their homes. I want to build these relationships and listen to the ideas and concerns you may have. At any point this year, please contact me for whatever reason. I am a resource for you and your students. See my contact information below.

Have a great start of the school year! Remember - YOU BELONG AT LONG!
I am always available via email and try to respond within 48 hours, and I will answer phone calls/texts when available from 6:00 AM - 5:00 PM Monday through Fridays. Any communication over the weekend will be answered the following next school day.

Email - miles.erbe@slps.org

Phone - (314)-944-3913

Note: This is a Google Voice account number and will ask for your name for screening purposes