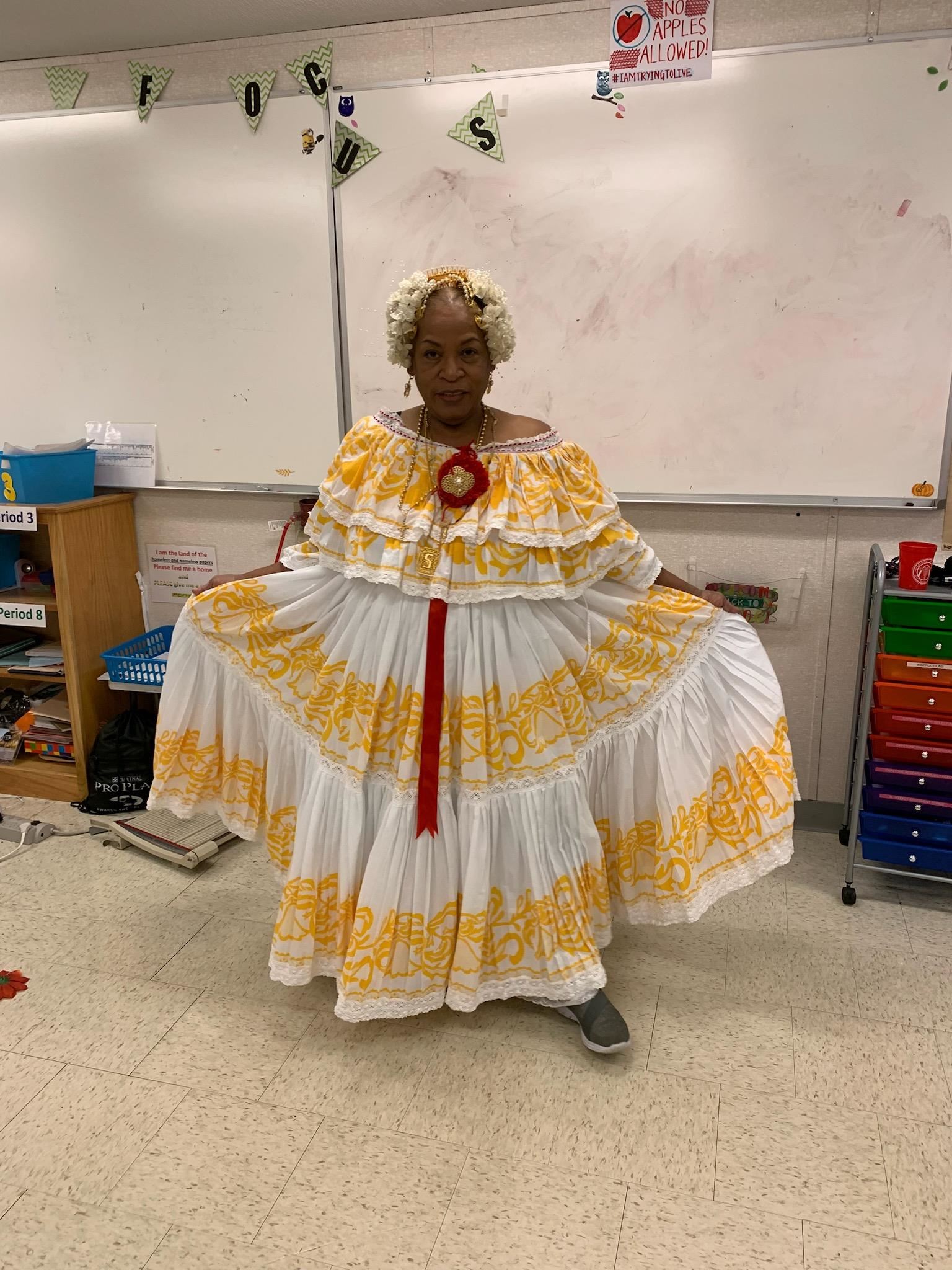 Phone:
Email:
Degrees and Certifications:
Spanish K-12 PE 8-12
Mrs.

Ms. Elizabeth Carlson

I will like to take this opportunity to introduce myself to all of my parent and students. My name is Elizabeth Carlson. I will be teaching Spanish this year and hope that all of of you will learn a bit about the Latinamerican culture and my hope is that this year you undestand the basisc of spanish language.

A little about myself YESSS I am latina/HIspanic... Hmm did you know there is a difference on these two terms? We will learn about this in my class. I have already mentioned that I am latina withch meansI am native spanish speaker. I am originally from Panama where i was I was born and raised. By the way in my photo i am wearing the national cultural dress for Panama and it is called THE POLLERA . The national dress of Panama has been voted by the international community as one of the most beautiful dresses in the world. The dress along cost in excess of $10,000.00 and thst does not includes the accessories. Owing an oririgal dress with all the accesories the pride of every Panamanian woman. By the way. the dress is only worn on special occations or when there are presentatiosn showeing the traditional dances of Panama.

In my younger days I participated in the International Games, Centroamericanos Games. My specialty was throwing discus and javelin. Also, as a world class athlete, I enjoyed getting to meet athletes from the United States, Colombia, Cuba, Centro América and other countries that participated in the Pan-American Games. Little known secret I was a gimnastic coach also yes I can teach you how to do floor excersisies, balance beam, uneven beams etc. Side note, in my spare time I like to listen to classical music, travel and just sit in the park and people watch

I moved to the US after marring my life long husband of over 35 years who passed away suddenly. I hold Degrees and certification in Spanish, Physical education. My current love is teaching others spanish and Panamenian culture. I am a veteran teacher of more than 27 years. I have taught all levels of Spanish and secondary Physical Education.. Some of the places where I Have taught includes Normandy High School, KIPP and Riverview Garden. I have been part of SLPS intermittently since the 70's holding different positions including Teacher Aide (at Lindenwood School) Springboard for Learning, Substitute Teacher, and Teacher at Meda P. Washington Alternative School.

My life is dedicated to my two daughters they are the apple of my eyes. My eldest daughter holds mutiple dregrees she is an acountant but she has found her new passion in nursing and works as a register nurse. My younger daugther is also as amazing she holds a Juris Doctorate and is currently working as a Prosecuting Attorney. The love of my life are my grandchildren I do just about anthing for them the oldest is currentlly attending McKendry University. Yes like any grandmother you will find me talking about them and the great things they are doing at school or their latest awesome takes.

I can wait to meet you all!!