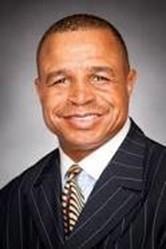 Phone:
Email:
Degrees and Certifications:
Mr.

Potter

I have a very diverse working history, yet my background is very similar to your child's. I am a product of Saint Louis Public Schools (SLPS) and I actually believe I am a great resource for building and creating successful scholars! I graduated from the University of Missouri - Columbia with a BES in Education. My first job was in the National Football League as a football player for the Chicago Bears. I was in the insurance industry over 35 years. 27 of those years were with State Farm as an Agent/Owner, yet I learned business structure while working 6 years in sales management for Procter & Gamble and 1 year with the U.S. Olympic Festival - 1994, in sales management.

I was built by SLPS. I went to Hamilton Elementary as a kindergartener and 1st grader. My family moved, so we transferred to then Dozier Elementary School to complete 2nd to 6th grade. I attended Enright Middle School and graduated from Soldan High School. As an elementary student, I was always in "the principal's office" for fighting or non-compliance issues, until Mr. Davis, my gym teacher, helped introduce athletics to me.

As a student/athlete my life changed. I found something I was good at - SPORTS! My vision is to support, develop, and mentor the personal, academic, and athletic career potential of each of my students. I will leverage my PHYSICAL EDUCATION/HEALTH & WELLNESS role to partner with SLPS middle and high school coaches to assist your student, each gender, to maximize their career potential in sports. The objective is not to be a professional athlete, yet if it happens it's all good.... the pride, poise, and discipline your children will learn over the years will lead their thought process and choices to become successful business professionals. Your son or daughter will build his/her family to higher standards and expectation, and your children's children will do the same!