Spanish Library Project

¡Hola! Please consider contributing to our Scholastic Campaign to build our classroom library. https://shop.scholastic.com/viewCampaign?campaignId=9eab6d76-f340-4841-9a74-eb5ccf026b22

Our Spanish classroom is proficiency bases, so students are immersed in the Spanish language. Proficiency based classrooms recognize that it takes a flood of input (listening and reading) before there can be a trickle of output (writing and speaking). I give my students as many opportunities as possible to hear the language, but am currently limited in my reading offerings.

Reading in the target language builds confidence for language learners. Student are able to have more autonomy in their acquisition when they read. They choose the book based on their interests. They interpret meaning of new words through the context of pictures and known words. Reading also lowers effective filters because students can re-read a passage multiple times to understand the meaning. Basically reading is the bomb!

The books that I receive will be used to fill our rather empty classroom library. Students will engage in free choice reading to develop recreational Spanish reading habits. The idea is that free choice reading time will be made into a treat for students with flexible seating, snacks, and beverages to make reading special. Books will also be highlighted in Readers Workshop and Story Time where students can develop academic reading skills to enhance their language understanding.
¡Bienvenidos, alumnos nuevos!

Welcome, new students! Please click on the link below to view a message from me, Profa. Licklider, McKinley's middle school Spanish teacher.
Summer Reading List

Check out this summer reading list from the school district! It looks so good. I know I will be reading Sal and Gabi Break the Universe, Illegal, and With the Fire on High!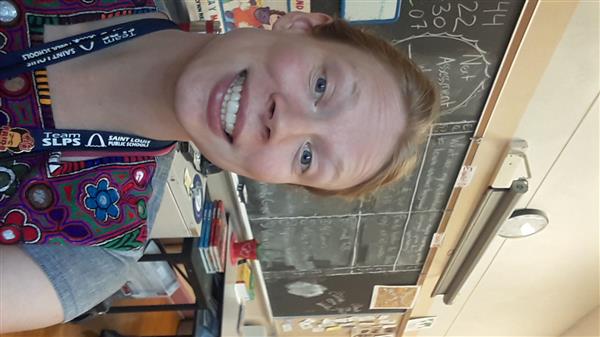 Phone:
Email:
Degrees and Certifications:
- Bachelor of Arts in History from Truman State University - K-12 World Languages (Spanish) Teaching Certification from University of Missouri St. Louis
Profa. Licklider

¡Hola alumnos y familia! I am Profesora Licklider, the middle school Spanish teacher at McKinley Classical Leadership Academy. I teach Spanish ONE and Spanish TWO. My approach to foreign language class focuses on aquiring the language. When acquiring a another language first we LISTEN, then we READ what we have heard, then we WRITE what we have heard and read, and last we SPEAK because we have heard, read, and written it. Please take a look at the resources below to learn more about language acquisition and its benefits, and feel free to email me with any questions you have.

https://www.actfl.org/advocacy/what-the-research-shows (benefits of acquiring a second language)

https://www.youtube.com/watch?v=WxOgY9Q1xvo (Watch from 3:35-5:20. See what you can acquire about acquisition)

https://www.sk.com.br/sk-krash-english.html (More on language acquisition...in English. Watch the video to get a feel for what "Spanish Zone" is like in our class.)