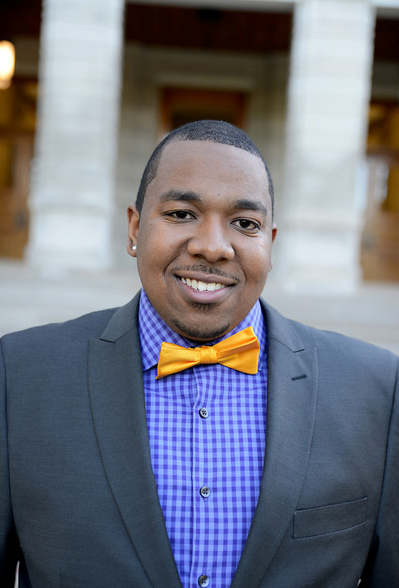 Phone: (314)-771-2772 Ext. 41218
Email:
Degrees and Certifications:
B.A. Political Science & Communication M.Ed Secondary Education Ed.D (in progress) Educational Leadership
Mr.

Kaylan Holloway, M.Ed

2017 St. Louis Public Schools Teacher of the Year:Humanities


Room Number: 205

Courses:
American History (9th Grade)
African-American Studies (12th Grade)
Sponsor:
Kings of Distinction Male Leadership Program, Founder and Director
Cultural Leadership Program, Sponsor
Biography:
Kaylan Daniel Holloway was born and raised in North St. Louis City and received his education in the St. Louis Public School District (Hickey Elem. Yeatman Middle, Soldan High).
After graduating from Soldan International Studies High School, he went on to attend University of Missouri-Columbia. There he grew as a student leader, founding iGUIDE Leadership Team; a mentoring group designed to increase the retention rate of first-year inner city "at-risk" students.
While at Mizzou, he also received numerous honors and awards including Innovator of the Year, the Chancellors Leadership Award and Homecoming Royalty as well induction into the Mystical 7 secret honor society. After working at the State Capitol as a legislative affairs staffer for 2 years he decided to "come home" and give back to the school district and community that helped him achieve many of his aspirations! When he is not working tirelessly for his students, he is volunteering in the community. He spends most of his time volunteering for Cultural Leadership or at church.
Mr. Holloway received his Masters of Education degree from UMSL this past May. In August, he will pursue a doctoral degree (Ed.D) in Educational Leadership in conjunction with the Principal Bridge Program at Maryville University.
Mr. Holloway is led by his strong faith, inspiring family values and his belief that every child deserves a champion, advocate, and role-model. He views teaching as his ministry and purpose.
Mr. Holloway currently works at Central Visual and Performing Arts High School as a social studies teacher and program director for Kings of Distinction Male Leadership Program.
He is honored to join the 2% of African American Male Teachers in the United States on a mission to serve as a positive role model and mentor, both in and outside of the classroom. In 2015 he recieved the Fox 2 News Tools for Teachers Award and was selected as one of the St. Louis American Young Leaders Awardees. He was also featured in DELUX Magazine as a "Person who Inspires" this summer. Most recently Mr. Holloway was named the St. Louis Public Schools Humanities Teacher of the Year.
His classroom curriculum and culture is centered on developing a Culturally Relevant classroom experience, while raising the social, political and cultural consciousness of his students.
TEDx Talk:
Mr. Holloway was honored to be Tedx Speaker earlier this year. Below you can find the abstract and link of his talk.
Implementing a Social Justice Pedagogy in the 21st Century School: Developing Consciousness and Achievement while #stayingwoke. This idea focuses on creating an educational experience for minority students that is equitable, diverse and culturally relevant. The implementation of a social justice culture and curriculum is aimed at raising the social, political and cultural consciousness of students and educators. This pedagogy repudiates schools that fail to acknowledge diverse learners and not incorporate the unique identities and contributions of minority students and educators. Kaylan Holloway provide four key essentials for implementing a social justice pedagogy; (1) becoming a culturally responsive educator, (2) designing lessons that raise the social, political and cultural consciousness of students, (3) creating a diverse group of teacher leaders, and (4) building a loving school community.