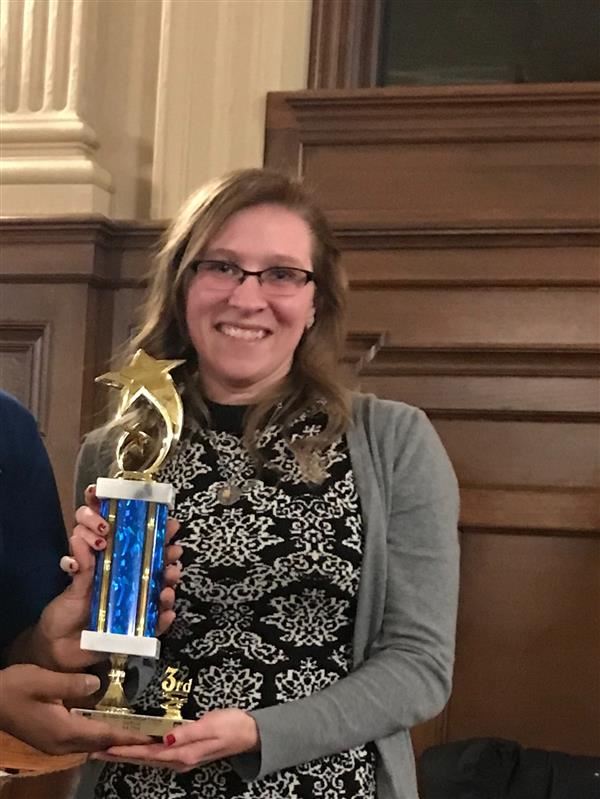 Phone:
Email:
Degrees and Certifications:
Mrs.

Skye Reichert

Room Number: 110

Subjects: American/Junior Literature, Drama

Message: Welcome Parents and students! I am excited to be back for another year at Soldan with our amazing team. I like to spend my free time traveling when I can or spending it outside in nice weather. I also spend a lot of time with my wonderful debate team here at the school. Don't hesitate to contact me if you need anything.

Bio: I graduated with my B.A. in English Education from the University of Missouri – St. Louis and worked as a paraprofessional in a rural district until I came here to Soldan in 2016. also just finished my Masters in Educational Leadership with SLU last semester!

Please feel free to follow the link to the Junior Literature scope and sequence for the year. We have finished all four units and are now doing an additional unit on the novel Of Mice and Men in english.

https://www.slps.org/cms/lib/MO01001157/Centricity/Domain/8140/English_3_Curriculum_Updated_February_2019.pdf

Assignments for Drama will be posted as well.
Happy Monday and Happy Last Day for Seniors.

Seniors: No need to do this weeks assignment. I plan on getting your grades in tomorrow morning so please make sure everything you want in is done by the end of the day. Don't forget to go check out at the school!

Everyone else we have two weeks to go. Make sure that you are keeping up with work. No late work can be turned in after next wednesday and next weeks final assignment must be in by thursday. Grades will be in by the end of next week.

As always if you have questions or concerns, don't hesitate to contact me.

Reichert
Welcome to week 6 of online learning. Including this week we have 3 weeks to go! Last day of school is May 21.

I know some of you may still have some unasnwered questions, as do we all, but feel free to ask and I will do what I can.

As we continue, it is imparative that students are completing work. Everyting is being tracked and we are doing the best we can as we continue.

As always, please let me know if there is anything you need.

Reichert
Welcome to week 5 of online learning (monday 4/27-5/1). We are half way there and have 4 weeks left of the school year. Keep up the good work. I am hoping that most people have access to technology now. Work is posted and we are up and running!

As always, feel free to contact me if you need anything!

Reichert
Good Morning,

And welcome to the start of another week.

Work for week 4 (4/20-4/24) has been posted. Grades for last week go in today. Please note that starting this week "attendance" will be submitted on Fridays. If you have communicated or worked on assignments this information that has been being tracked is now also being submitted to administration.

Thank you to those of you who have expressed concerns about technology and have worked to get them fixed. Please keep me updated.

If you have additional concerns please feel free to read below about addressing come common concerns I have gotten as well as the grading policy.

As always, if you have questions don't hesitate to reach out. Another weekly email will be sent at the end of the week for those who have not been able to complete assignments.

Thanks,

Skye Reichert
Dear Scholars and Parents,

I know that some of you have addressed concerns to me and other teachers about the work load, time frame, and assignments given recently. I wanted to take the time to respond to some concerns to at least let you know why I am doing what I do. If you still have additional concerns please, as always, feel free to contact me.

I'm sorry that you feel overwhelmed with all the work that is being assigned. While I cannot speak for other teachers, I can tell you where I stand. The district has asked that teachers of core classes provide 5-10 hours of work per week. The idea behind this is that you are in each classrooms a minimum of 3 hours a week and having teachers every other Friday, brings that total to almost 5 hours on those weeks. (The idea behind 10 hours is that teachers should be assigning homework as well - which you know i rarely did, seemingly doing you a disservice now). I think part of why you may feel that you "didn't get all this work while in the classroom" is because you now are doing it all independently as opposed to with your teachers or as a class. This in part is why teachers hold daily office hours. For you to chat with them and ask questions.


Knowing this, I typically try to assign work that should take you less then 5 hours for you to do for my class. We could have easily read 20 pages and done the question work for this novel within our class time. I also try to stay consistent in posting work either on Sunday or monday morning in preparation for the week. Just because the work is assigned on sunday does not mean you need to start it on the weekend. If you are receiving notifications of this that are bothering you, I am sure there is a way to turn them off on teams.

As far as due dates. The work for the current week will typically always be due that friday night. I try to make this simple. I understand that your other teachers probably have a different of doing things with different due dates. If you are having trouble, I suggest that you create a calendar, either electronically or on paper, of the week's assignments and due dates. If you list all of your assignments it may help you feel less overwhelmed to help you prioritize your time on these assignments. Get a schedule and stick to it.

This is going to take getting used to on both ends, but I think the big thing you will learn is time management. And if you plan on attending college, this will be good practice for it!
Happy Easter everyone,

As you have all probably heard by now, we will not be returning to the buidling this school year. However, virtual learning will still be taking place. Please make sure you, or your student, is logging into teams to do work weekly. Assignments for this week are being posted. Please also check out the files page on teams and below for current grading information. Teams norms will also be posted this week.

Make sure to email me if you still do not have access to teams, microsoft, or technology so we can get you taken care of. I will be sending out weekly updates for those with current information who i haven't seen doing work!

Enjoy the week.

Reichert
Monday 4/6-4/10 Week 2

Happy Sunday everyone - just wanted to update you on the latest. Assignments have been posted here and on Teams. If you didn't do reading for enrichment in literature last week please make sure you stay up to date. The book is short, and I have made some changes on teams to make assignments easier to turn in (go to assignments and open the section 3-4 document. Edit there (may have to download) and submit for quick and easy feedback without having to send in an email.

My office hours on teams are M-F from 9:30-11AM. You can only chat on office hours if you are logged into teams.

If you are having trouble accessing your Teams or 365 account please send me an email. I have user names and passwords.

Dont hesitate to contact if you need anything.

Reichert
Monday 3/30 Week 1

Happy Monday everyone - just wanted to update you on the latest. Assignments have been posted here and on Teams. This weeks enrichment activites are not for a grade this week, but reading will be roled into next week.

My office hours on teams are M-F from 9:30-11AM.

If you are having trouble accessing your Teams or 365 account please send me an email. I have user names and passwords.

Dont hesitate to contact if you need anything.

Reichert