Return to Headlines
AT&T Contributes $300,000 to Help Tackle High School Dropout Crisis at Six St. Louis High Schools (10/15/14)
For more information, contact:
Katie Nagus
Director-Communication, AT&T
314-984-5298
katie.nagus@att.com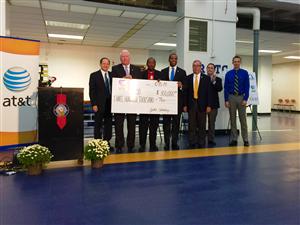 Pictured (L-R): Mayor Francis Slay; John Sondag, AT&T; Dr. Wendell Brown, AVID; David Hardy, Saint Louis Public Schools; Sen. Joe Keaveny; Rep. Mike Colona; Michael Baird, Saint Louis Public Schools
ST. LOUIS, OCT. 15, 2014 — AT&T today announced a $300,000 contribution to support the expansion of the AVID College Readiness System in six St. Louis public high schools: Cleveland Junior Naval Academy, Gateway STEM High School, Roosevelt High School, Soldan International Studies High School, Sumner High School and Vashon High School.
"AVID is pleased to partner with Saint Louis Public Schools and AT&T to bring proven and successful instructional strategies to students in SLPS, giving them opportunities for success in our global society," said Dr. Wendell Brown, AVID's Central Division Director.
"We are grateful for AT&T's support and for its longstanding commitment to advancing educational opportunities in Missouri," said David Hardy, Deputy Superintendent of Saint Louis Public Schools. "Equipping students with the resources and skills that they need to achieve college, career and life success is fundamental to our mission. AT&T's support will help enable our efforts to close the achievement gap and prepare St. Louis students for their next step in life."
AVID, which stands for Advancement Via Individual Determination, is a college readiness system designed to increase the number of students who enroll and succeed in four-year colleges and universities. Saint Louis Public Schools (SLPS) started implementing AVID in its schools in 2007 to help prepare students at-risk of dropping out for success in high school and college and to increase college application and acceptance rates among low-income, minority, at-risk students. AT&T's contribution will help expand the AVID system to support approximately 3,400 students in Saint Louis Public Schools.
"Providing a quality education is one of the most important gifts that we can give our children. It is also the cornerstone of strong communities," said Mayor Francis Slay. "I want to thank AT&T for its commitment to education and to the St. Louis community. AT&T's support for the Saint Louis Public Schools and the AVID program demonstrates the importance of investing in students today to prepare them for success tomorrow."
"We know that local educators and organizations like AVID play a critical role in the lives of students because they are on the front lines of education each and every day," said John Sondag, president of AT&T Missouri. "We are proud to support the Saint Louis Public Schools and the AVID program expansion because we believe that investing in education and helping fund programs that put students on a path to success benefits both the students and our business."
AT&T's support for AVID and the Saint Louis Public Schools is part of AT&T Aspire, the company's signature education initiative, focusing on school success and workforce readiness. With an unwavering commitment to data-driven education outcomes, AT&T Aspire has impacted more than 1 million students since its launch in 2008.
About AT&T
AT&T Inc. (NYSE:T) is a premier communications holding company and one of the most honored companies in the world. Its subsidiaries and affiliates – AT&T operating companies – are the providers of AT&T services in the United States and internationally. With a powerful array of network resources that includes the nation's most reliable 4G LTE network, AT&T is a leading provider of wireless, Wi-Fi, high speed Internet, voice and cloud-based services. A leader in mobile Internet, AT&T also offers the best wireless coverage worldwide of any U.S. carrier, offering the most wireless phones that work in the most countries. It also offers advanced TV service with the AT&T U-verse® brand. The company's suite of IP-based business communications services is one of the most advanced in the world.
Additional information about AT&T Inc. and the products and services provided by AT&T subsidiaries and affiliates is available at http://www.att.com/aboutus or follow our news on Twitter at @ATT, on Facebook at http://www.facebook.com/att and YouTube at http://www.youtube.com/att.
© 2014 AT&T Intellectual Property. All rights reserved. AT&T, the AT&T logo and all other marks contained herein are trademarks of AT&T Intellectual Property and/or AT&T affiliated companies. All other marks contained herein are the property
of their respective owners.
About Philanthropy at AT&T
AT&T Inc. is committed to advancing education, strengthening communities and improving lives. Through its community initiatives, AT&T has a long history of investing in projects that create learning opportunities; promote academic and economic achievement; or address community needs. In 2013, more than $130 million was contributed or directed through corporate-, employee-, social investment- and AT&T Foundation-giving programs. AT&T Aspire is AT&T's signature education initiative that drives innovation in education by bringing diverse resources to bear on the issue including funding, technology, employee volunteerism, and mentoring.