Return to Headlines
Central VPA Dance Teacher Named SLPS Teacher Of The Year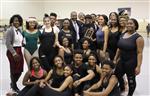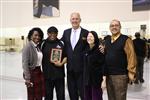 ST. LOUIS, MO., February 10, 2016 – Saint Louis Public Schools today presented its 2015-16 Teacher of the Year award to Raymond Parks, the dance teacher at Central Visual and Performing Arts High School. Mr. Parks has been a part of the Central VPA family since 1983.
"Arts programs are judged by our end products and how we impact student lives. By that standard, Ray Parks is the industry model," said SLPS Performing Arts Curriculum Specialist Kaye Harrelson. "Over time, he has shepherded his students beyond high school and toward dance careers in national troupes. His students model self-confidence and courage."
Mr. Parks was selected by the District's Professional Development Office as the overall Teacher of the Year from a pool of 15 stellar educators honored in November. At that time, Mr. Parks received the Webster University Leigh Gerdine College of Fine Arts Middle/High Performing Arts Teacher of the Year award.
In addition to his decades of service to SLPS students, Mr. Parks has also taught dance instruction on the college and professional levels. He is a former choreographer for several St. Louis sports teams, including the St. Louis Blues and St. Louis Cardinals.
Mr. Parks' commitment to students is embodied in his attendance record; he has not missed a day of work in the past seventeen years.
"Mr. Parks will reach out to us if we need help with our homework or if we need help with anything besides dance," said Emara Neymour-Jackson, a senior at Central VPA High School. "It's not just dance that he's there for us; he's there for us with anything."
As the District's overall Teacher of the Year, Mr. Parks will now compete for the District in the Missouri Teacher of the Year contest.
# # #