Return to Headlines
SLPS Teachers Earn Loeb Awards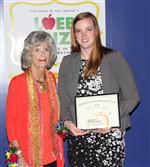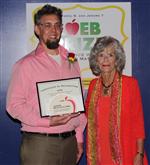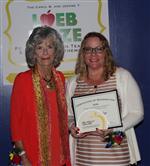 SLPS Teachers Earn Prestigious Loeb Awards For Teaching Excellence In Science And Mathematics
(May 17,2016) - Central Visual and Performing Arts algebra teacher Jason McClelland was the top winner today at the 2016 Saint Louis Science Center and Carol B. and Jerome T. Loeb Prize ceremony. The awards event was held at the Saint Louis Science Center's James S. McDonnell Planetarium. Gateway STEM chemistry teacher Ashley McMichael was the second place honoree, with Carnahan High School of the Future biomedical and environmental science teacher Kelly Taylor earning a finalist award.
The SLPS teachers claimed three of the top five awards at this year's Loeb Prize event. All three District teachers received a beautiful plaque, a framed certificate and a cash prize. Each teacher also received a thunderous applause from their respective students who were on hand for the ceremony.
"My aim in teaching math is to foster critical thinking, logical reasoning and problem solving skills," said McClelland, who believes it is important to connect the math with the lives and experiences of his students. "The value of math for most people lies not in solving equations or graphic quadratics. Rather, it is in the problem solving which involves an understanding of how to question and how to apply resources and knowledge either existing or created,"
The Loeb Prize was established in 1995 at the Saint Louis Science Center by Carol Loeb and her late husband Jerome T. Loeb. In announcing this year's awardees, Carol Loeb said, "All of our finalists demonstrated expertise in their subject areas, innovative teaching styles including the use of technology, and their personal commitment to the overall well-being of their students. I am grateful for the opportunity to recognize these teachers for the work they do to enable their students to become the STEM (science, technology, engineering, and mathematics) leaders of tomorrow."
The Loeb Prize, endowed in 2002 by a generous gift from the Loeb family, honors teachers who significantly enhance their students' performance in science and mathematics. The late Mr. Loeb worked for the May Department Stores Company, retiring as chairman of the board. He was chairman of the Saint Louis Science Center's Board of Commissioners and a member of the Saint Louis Science Center's Board of Trustees. Carol Loeb, a math teacher for 53 years, is currently a member of the Saint Louis Science Center's Board of Trustees.
The 2016 Loeb Prize ceremony was presided over by Carol Loeb and Bert Vescolani, the Saint Louis Science Center President and CEO.
"This is the 21st year of our partnership with the Loeb family in recognizing and rewarding outstanding teachers dedicated to STEM education," said Vescolani. "The Loeb Prize is one of the many ways we honor teachers who share the mission of the Saint Louis Science Center - to ignite and sustain a lifelong interest in science and technology."
###