Return to Headlines
Walbridge Elementary Hosts Summer Arts & Humanities Experience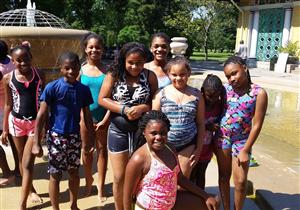 Student Torion Walter makes a Tibetan Mandala Students cool off at Tower Grove Park
Walbridge Elementary Hosts Summer Arts & Humanities Experience
Funding provided by grants from Humanity First USA and Missouri Humanities Council
ST. LOUIS, MO, June 17, 2016 – Children in kindergarten through fifth grade living in the Walnut Park community are able to enjoy summer learning opportunities at the Walbridge Elementary Summer Arts & Humanities Experience thanks to the generosity of Humanity First USA and the Missouri Humanities Council.
Walbridge Elementary School applied for grants to help provide the program and received a $10,000 award from Humanity First USA and a $1,764 grant from the Missouri Humanities Council with support from the National Endowment for the Humanities. The combined funding allows Walbridge Elementary School to offer educational programming such as arts and humanities classes, cooking classes, gardening classes, open gym, character education, field trips, and a daily breakfast and lunch program during the months of June and July.
"The Summer Arts & Humanities Experience provides life-changing opportunities for our students by showing them the different experiences about the world and teaching them new skills," said Jessica Roberts, the program's coordinator.
Children attend the Walbridge Summer Arts & Humanities Experience from 9am – 2pm on Monday – Thursday through July 7th.
###
Notes to editors:
The Missouri Humanities Council (MHC) is a 501(c)(3), non-profit organization that was created in 1971 under authorizing legislation from the U.S. Congress to serve as one of the 56 state and territorial humanities councils that are affiliated with the National Endowment for the Humanities (NEH).
MHC provides programming that encourages family reading, highlights Missouri's heritage, supports creative writing by veterans, and assists local museums, libraries, and other organizations promoting education—facilitating public conversations on topics that include history, religion, archaeology, anthropology, philosophy, literature, law, ethics, and languages. For further information please visit our website at www.mohumanities.org.
Humanity First is an International Non-Profit Charitable Organization established to promote and safeguard the preservation of human life and dignity.
Humanity First is a non-political, non-sectarian international relief and development agency that works with communities around the globe to improve the quality of life for some of the world's poorest and most vulnerable people. Directors, Officers and Aid Workers of Humanity First are unpaid volunteers. Humanity First has been granted a special consultative status with the United Nation's Economic and Social Council (ECOSOC). For further information please visit our website http://usa.humanityfirst.org/