Return to Headlines
Full Accreditation For SLPS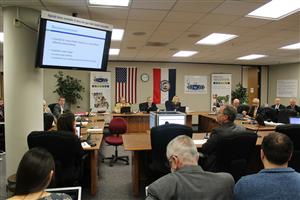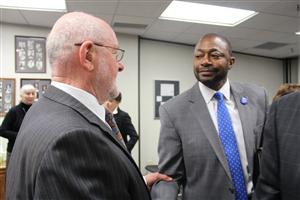 SLPS – FULLY ACCREDITED
State Board Votes Unanimously to Restore District's Accreditation
ST. LOUIS, MO. January 10, 2017 – History was made at 9:20 a.m. today when the Missouri State Board of Education voted unanimously to grant Full Accreditation to the Saint Louis Public School District. The State Board's action completed a nine-year, nine-month and 19-day journey for SLPS that saw the District lose accreditation in 2007, improve to Provisional Accreditation status in 2012, and regain Full Accreditation immediately.
Prior to voting, the State Board viewed a report by Missouri Department of Elementary and Secondary Education Assistant Commissioner of Education Chris Neale that outlined the improvements made by SLPS that led DESE to recommend Full Accreditation. Neale's presentation highlighted improved test scores, attendance, graduation rates, governance and finance.
"This is an opportunity to celebrate really great things in the district," said State Board President Charlie Shields. "Today's decision should be viewed as a major success for St. Louis, the state of Missouri and the Department (DESE)."
The District has been governed by a Special Administrative Board (SAB) since 2007. Rick Sullivan and Richard Gaines have been SAB members since its inception. Dr. Melanie Adams served on the SAB until this past fall when she left St. Louis to take a job in Minnesota. Darnetta Clinkscale now serves as the third SAB member.
Under the SAB's guidance, Dr. Kelvin Adams was hired as superintendent in the fall of 2008. Together, the SAB and Dr. Adams have worked tirelessly to improve academic outcomes for all students while also turning a $25 million budget deficit into a $19 million surplus.
"We first give credit to our students for making this happen. However, the entire St. Louis community really needs to take a moment and stand back and say we did this as a community, and we truly changed what's going on in Saint Louis Public Schools," said SAB President/CEO Rick Sullivan. "Thanks should also go to the teachers, principals, staff and others who have made a difference within the District."
Saint Louis Public Schools earned 104.5 Annual Performance Report points in 2015-2016 with hold harmless calculations factored in, surpassing the required 98 points required by DESE for Full Accreditation. The District also surpassed the 98 point threshold in 2014-2015 by earning 106.5 APR points. In his report, Neale praised SLPS for being "on track" or "exceeding" academic achievement scores in mathematics and English Language Arts during the past two school years.
"St. Louis schools should celebrate this milestone of full accreditation while understanding that the work of educating kids is never finished," said Commissioner of Education Margie Vandeven. "We are hopeful that district leadership will continue to focus on student learning in every classroom with effective teachers and school leaders."
SLPS is the first district in Missouri to ever regain Full Accreditation after being designated as Unaccredited. In fact, the District might very well be alone in this endeavor in the entire United States. With each state having a different accreditation process, the District is unable to find a comparable turnaround by any other district around the country.
"This work has never been about one person, one program, one school, one organization or one idea. It has been about everyone working together to improve the outcomes for students," said Dr. Kelvin Adams. "We realize and understand that we still have a lot of work to do. We are not going to stop until every single child can read."
A District-wide recognition of today's State Board of Education action will take place on Friday, January 13, to allow students and staff to celebrate this historic moment. To make it official, Mayor Francis Slay has proclaimed January 13, 2017 as Saint Louis Public Schools Day in the city of St. Louis.