Return to Headlines
Farragut Takes Home Trophy in Design Challenge Finals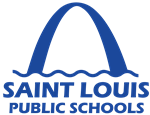 MEDIA RELEASE
FOR IMMEDIATE RELEASE
March 15, 2017
Farragut Elementary Takes Home Trophy in Design Challenge Finals
Judges Selected the Team's Student Study Lounge as the Best, Most Feasible Concept
ST. LOUIS, MO. March 15, 2017 – Saint Louis Public Schools crowned its first Love of Learning Design Challenge champions today at the culminating event of the competition at Piper Palm House. A total of six teams comprised of students from four different schools presented their prototypes for judging by a panel of celebrity experts. The winning team from Farragut Elementary School was awarded a trophy and will receive up to $1,000 in seed money to launch their project.
Farragut students pitched the judges on their Tiger Cove student study lounge, a quiet relaxing place they would like to establish within school to work on projects and decompress. Other concepts included a rooftop garden to address food deserts in JeffVanderLou, a restaurant where refugees could work and enjoy cuisine from home, and the conversion of a vacant school into housing and services for homeless students.
The competition was open to all SLPS students. A total of 45 teams representing 10 schools accepted the challenge of solving one of the following social issues: Homelessness, Creating a Restaurant in North St. Louis or Redesigning a School Space. After reviewing all entries, the final six projects were selected for today's event in which teams presented their prototype and answered questions from the judges.
We'd like to especially thank our judges for taking time out of their busy schedules to evaluate the student projects:


Kimberly McKinney – Habitat for Humanity
Eddie Roth – City of St. Louis, Dept. of Human Services
Keisha Mabry – College Bound
Charmaine Smith – Innovative Technology Innovation Fund
Sandra Jordan – St. Louis American
John Perkins – Juniper Restaurant
Matt Homan – Filament
Chris Naffizger – St. Louis Patina
The students prepared their prototypes with the professional guidance and assistance from Tech Shop and Filament.
Love of Learning is a new academic initiative launched by the District during the 2016-2017 school year. The goal is to provide students with a series of opportunities that will allow them to explore what is possible and question what is impossible with joy, purpose and love. It has four strands: STEAM, Literacy, Future and Voice. For more information, please visit www.slps.org/loveoflearning.
###