Return to Headlines
SLPS Shines Spotlight on Dedicated Volunteers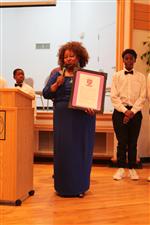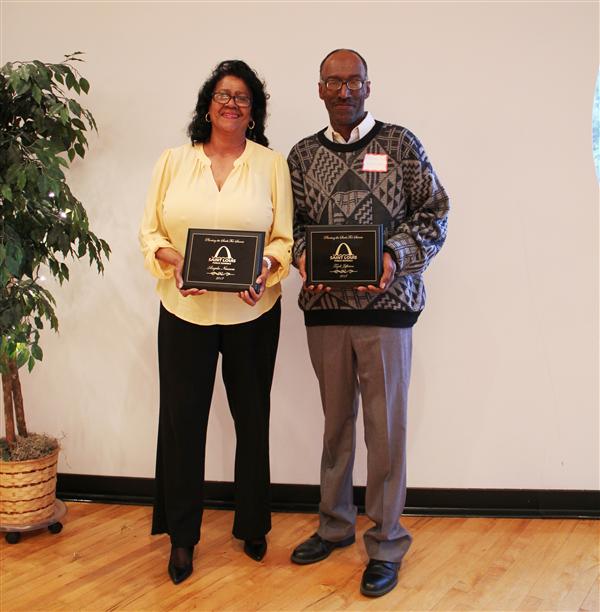 SLPS SHINES SPOTLIGHT ON DEDICATED VOLUNTEERS
Award Winners Contribute More Than $200,000 In Volunteer Service Hours To District Schools
ST. LOUIS, MO, April 28, 2017- The Saint Louis Public School District proudly saluted volunteer groups and individuals with a special celebration event on April 27, 2017. The District recognized 22 individuals for outstanding volunteer service, four congregations for stellar volunteer service and a prominent business for exceptional volunteer service. A special resolution was also presented posthumously to retired principal and long-time volunteer Charles BB Shelton.
Superintendent Dr. Kelvin Adams provided welcoming remarks for the celebration with The Little Bit Foundation Executive Director Rose Hanley giving a stirring keynote address. Attendees were treated to a special musical performance by students from the Adams Elementary School guitar club. Carr Lane Visual and Performing Arts Middle School students served as ushers for the event.
The first group of volunteers honored each dedicated at least 300 hours of service to the students of the Saint Louis Public Schools during this school year. Combined, their volunteer hours provided almost $100,000 in service to SLPS, based on the National Volunteer Center's figure of one volunteer hour equaling approximately $21 in value to the receiving organization.
Members of the 300-hour volunteer club for 2017 are: Shanta Baker, Marilyn Hopgood, Jacqueline Bronner, Leroy Turner, Tashawn Duncan, Shaluv Jones, Orlando Jackson, Cherell Nash, Brenda Davis, Gheremi Clay, Daisha Crawford, Frances Cummins, Larry E. Davis, Joan Smith, Melissa Davis and Tanisha Smith.
Recognized for volunteering more than 600 hours each, with a combined value in volunteer time in excess of $71,000 were Brenda Anderson (Langston Middle School), Betty Barry (Ford Elementary School), Shirley Dunn (Nance Elementary School), Allison Fultz (Nance Elementary School) and Eliza Julion (Ashland Elementary School).
Two very special people were honored for reaching incredible heights in volunteer hours. Tezell Jefferson (Walbridge Elementary School) and Angela Newsom (Soldan High School) each exceeded the 1,000 hour mark in volunteers hours this school year, providing an estimated $20,000 each in volunteer services to SLPS students.
The Office of Volunteer Services also recognized the following clergy partners as 2017 Stellar Congregation award winners for their continued support of SLPS schools: Renew Church, Zion Travelers MB Church, Beloved Community United Methodist and Congregation Temple Israel.
The final award of the evening was presented to the Bryan Cave LLP law firm. Bryan Cave was selected as the 2017 Outstanding Community Partner. Employees of Bryan Cave tutor students at Sigel Elementary School every Tuesday and Thursday, as well as performing service projects around the school throughout the year.
The Saint Louis Public School District is always looking for dedicated volunteers. For more information about volunteer opportunities with SLPS, please call Ella Hungerford at (314) 345-4577 or Ricci Sykes at (314) 345-4554.
###