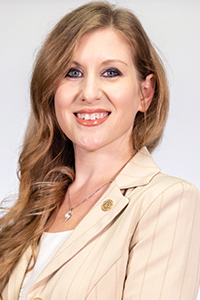 Natalie Vowell
Natalie.Vowell@slps.org
Natalie Vowell studied computer science and music theory at the University of Arkansas and served as the university's youngest and first female computer lab manager. She remains an advocate for young women entering STEM careers.
Natalie moved to St. Louis in 2010 and continued her dedication to technology education as Development Director and Board Member for North City nonprofit WITS Inc., rebuilding unwanted electronics into computers for students and schools and leading workshops teaching families to assemble their own computers from recycled parts. Natalie has provided more than 1,000 free computers for families in need.
In 2013, Natalie founded Project Raise The Roof, an organization that helps northside citizens stop the seizure of owner-occupied homes at City Sheriff's auctions and keeps houses on the tax rolls—generating school funding and preventing vacant properties. She's helped more than 70 northside citizens retain their family homes.
Natalie has earned her Advanced and Master Certifications from the Missouri School Boards' Association. She served as a 2016 Democratic National Convention delegate, has registered more than 200 high school seniors to vote, and is passionate about guiding our youth toward becoming innovators and community activists.