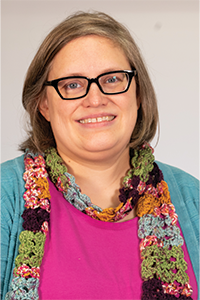 Emily Hubbard
Emily.Hubbard@slps.org
Emily Hubbard was elected to the Board of Education of the City of St. Louis in November 2022. In 2015, Mrs. Hubbard, her husband, Roy, and their four young children, relocated to St. Louis from Huntsville, Alabama. Her then first-grader started in their neighborhood school in the Dutchtown neighborhood in January of 2016. As each younger child reached school-age, they were enrolled as well. The Hubbard children are now ages 8, 10, 12 and 14 and in 3rd, 5th, 7th, and 8th, grades, respectively. Her time as a parent at a neighborhood school was and is pivotal in her desire to serve the children of St. Louis.
Mrs. Hubbard presently serves as an adjunct professor of sociology for several local universities. She has previously done work in marketing and communications for J-KEM Scientific as well as the University Press of Mississippi. During her time in St. Louis, she has provided childcare for infants so their moms could go back to work with confidence. Mrs. Hubbard is a native of Mississippi and holds a Bachelor of Arts in English and a Master of Science in Sociology from Mississippi State University (Hail State!).
In her new role as a board member, Mrs. Hubbard looks forward to being part of decisions that improve the district and allow our children to flourish.