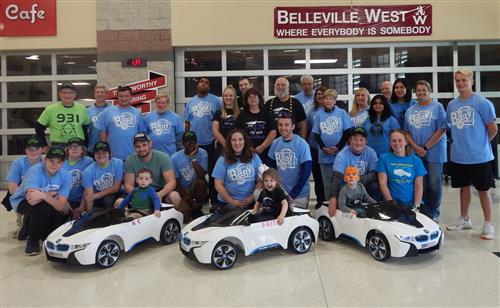 Saturday your Robotics Team were key volunteers for a Go-Baby-Go event customizing ride-in cars for kids with Spina Bifida. Over the previous two months we worked in partnership with the Belleville Kiwanis Club to add a Go-Button on the steering wheel for kids who can't use their legs or an enlarged foot pedal for those who. We also added a parent master switch on the back and fitted the car under the guidance of BJC therapists.
The Robotics Team members in the picture from left to right are: Daniel Newgent, Ethan Henning, Evan Holden, Nathan Morison, and Jevon Clark. Also in photo are Tim Frazier and myself. Student who helped plan and make car modification but couldn't make it Saturday include Ayrton Ponce, Raneem Alhamed, and Asher Pruitt.
The smiling faces of KC, Faith, Cole and their families with their new BMW i8 Concept cars says it all. It was fun watching them race around the cafeteria with a sense of freedom they hadn't enjoyed before.
Respectfully,
Frank Dressel
Gateway STEM High School Robotics Team