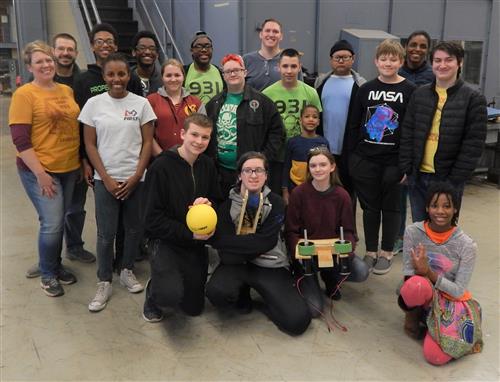 The Robotics Team is working our new game for 2020, Infinite Recharge. It was released worldwide last Saturday, the 4th. If you have a couple of minutes, here is a link to the game animation,
2020 FIRST Robotics Competition INFINITE RECHARGE Game Animation
Game includes shooting 7 inch balls (fuel) through low or high goals, rotating a 3 foot color wheel, and then for the end-game, hang with two alliance partners from a coat hanger like bar (generator switch).
We're focusing on these robot tasks:
· retrieve fuel off the floor,
· score high goals
· rotate the color wheel and be able to sense its four colors
· reach up and grab the end-game bar and be able to adjust position while hanging to level the bar
· maneuver with four new AndyMark swerve drive units
We're meeting every day after school and once or twice on weekends. Stop by the ground floor between the elevators and take a look. We have team members from Metro and McKinley as well as Gateway. You can see most of the team in the attached photo during our Sunday lunch break.
A major change in FIRST Robotics this year is the elimination of the six week stop build date. Now we can work right up to competitions. We're registered for the St. Louis Regional at Chaifetz Arena right before Spring Break but on waiting lists for either Knoxville TN or Little Rock AR other weeks. We hope to know soon.
Gateway STEM High School FIRST Robotics Team 931 Perpetual Chaos