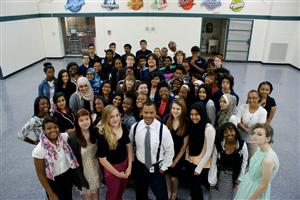 Welcome to our website!


Please take a few moments to investigate our community. Our inaugural school year with our first freshmen class, was amazing! We are truly energized with what lies head for our students.

Collegiate School of Medicine and Bioscience was established to create a diverse and rigorous learning community committed to discovery, innovation, collaboration, and academic excellence for future healthcare providers and research scientists.

Our student body comes to us from 36 different zip codes and middle schools from districts such as: Kirkwood, Ladue, Lindbergh, Mehlville, Parkway, Ritenour, Rockwood, Webster Groves, Valley Park, parochial, private, charter, and St. Louis Public Schools.

Technology also plays a vital role in the life of our community, enriching teaching and learning and enhancing communication among all constituents.

I am sure you will agree that the breadth and depth of our academic program; plus opportunities that only CSMB students will be afforded through our partners, BJC Healthcare, Goldfarb School of Nursing, St. Louis College of Pharmacy,St. Louis University Medical School, and Washington University School of Medicine, makes for a unique educational experience.

I hope you get a sense of that spirit of camaraderie that distinguishes Collegiate School of Medicine and Bioscience in this community, and the dynamic people who make it all possible.
Chip P. Clatto
Principal