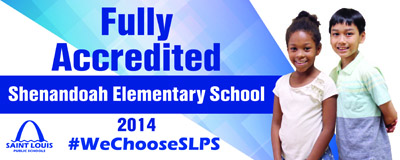 Principal's Message:
Welcome to Shenandaoh Elementary School. We are a fully accredited SLPS School located in the heart of South City. Our mission is to prepare children to be future leaders and productive citizens in a vaible and diverse society. Currently, we serve children in grades Pre-K through grade 6 and our emrollment is 225. We offer the folowing:
A full-day PK program
A solid curriculum with a focus on reading, math and science.
Small group lessons with daily guided reading and math instruction in all classrooms
A nurturing environment
Dedicated teachers that focus on the learning process
Technology in all classrooms
A VH1 Piano Lab
Implementation of PBS (Positive Behavior Support)
We worked very hard last year and ended the year well. Thank you for a great school year. As we close the 2014-2015 school year and look forward to 2015-2016, please know that your child's education is most important to us. We are and will continue to work hard at providing your child with a quality education every day. This is our committment to you each and every day.
Please feel free to visit us at 3412 Shenandoah Avenue, St. Louis, MO 63104. Or you may call us at (314)772-7544. We look forward to hearing from you.
Ms. Sonya Wayne,
Principal
| | |
| --- | --- |
| | |
| Grade Configuration: | PS-6 |
| Bell Times (Bus Tier): | 9:30-4:27 (3) |
| Principal: | Sonya Wayne |
| Address: | 3412 Shenandoah Ave. St. Louis, MO 63104 |
| Phone Number: | 772-7544 |
| School Type: | Elementary School |