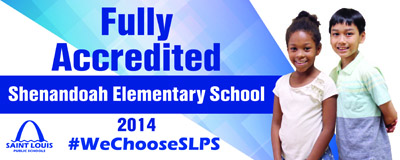 Welcome to Shenandoah Elementary School.
We are a Pre-K - 6th grade school. We are located in South St. Louis in the Tower Grove East Neighborhood. We offer a caring and devoted staff. Please feel free to visit us at 3412 Shenandoah Avenue, St. Louis, MO 63104. Or you may call us at (314)772-7544. We look forward to visiting with you.
Principal's Message:
Dear Parents,
Thank you for all you are doing to help your child succeed in school. Please continue to assist us with our efforts to make AYP. MAP Testing begins March 29th and we will do well!!! As mentioned before, attendance must be met in order for us to make AYP so PLEASE send your child to school every day.
Our school has partnered with the St. Louis Zoo and we are very excited. We have lots of fieldtrips planned during the month of May and we are looking forward to that. While at the Zoo, our students will participate in hands-on activities as well as tour different areas to learn more about the Zoo. We hope that you will be able to join us. Please contact your child's teacher if you are interested.
| | |
| --- | --- |
| | |
| Grade Configuration: | PS-6 |
| Bell Times (Bus Tier): | 9:10-4:07 (3) |
| Principal: | Sonya Wayne |
| Address: | 3412 Shenandoah Ave. St. Louis, MO 63104 |
| Phone Number: | 772-7544 |
| School Type: | Elementary School |