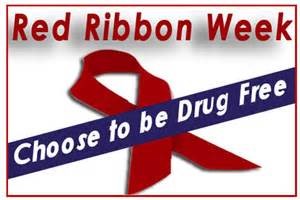 Earl Nance Sr. Elementary School will celebrate Red Ribbon Week on Monday, October 24, 2016 through Friday, October 28, 2016. You are invited to be a part of this special week by dressing and or participating in the following theme days:
Monday=Wear Red Rally Day ["Spread the Word to STOP Drug Use"] Students sign the pledge to be Drug Free and receive Red Ribbon paraphernalia.
Tuesday=Wear School Colors or Team Jersey (Team Up Against Drugs)
Wednesday=Wear Red, White, & Blue (I Elect to Be Drug Free) and Kids Voting (I'm Voting for My Future)
Thursday= Wear Orange ["Orange You Glad You're Drug and Bully Free"] Students will receive Orange Bully Free Ribbon. UNITE AGAINST BULLYING!!
Friday=Wear blue jeans ["I'm a "jean"-ius I'M DRUG FREE]