Giving Thanks
by Dr. Kelvin R. Adams
Superintendent of Schools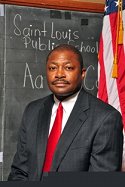 The Saint Louis Public School District is fortunate to have the support of many area organizations. Churches, businesses and non-profits are always there for our students and schools. As a small way of saying "thanks" for all of the support we have received, the District recently took time to "give back" through four very dedicated organizations in the St. Louis area.

Every school and department in the District was invited to participate in the District's annual Giving Campaign. We are all familiar with the phrase, "To whom much is given, much is expected." As a District we were encouraged to think about those in our community who find themselves in need and support the great organizations who look out for them.

SLPS District employees once again came through. A total of $35,747.66 was given to support the United Way, the St. Louis Public Schools Foundation, the Arts & Education Council and the United Negro College Fund. I would like to personally thank all who gave and all who worked behind the scenes to collect the donations for these great organizations.