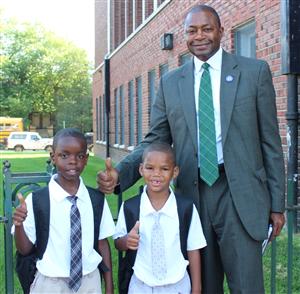 SLPS STUDENTS RETURN TO CLASSROOMS FOR FIRST DAY OF SCHOOL
Summer vacation is officially over for Saint Louis Public School District students. Principals and teachers greeted returning students at all District schools on Monday, August 17th. Superintendent Dr. Kelvin Adams visited several schools to say "hello" to students, parents, grandparents and staff.
The District welcomed 20, 924 students on the first day of school for the 2015/2016 school year. First day attendance last year was 20,902. The District has now surpassed the 20,000 first day attendance mark for four consecutive school years.