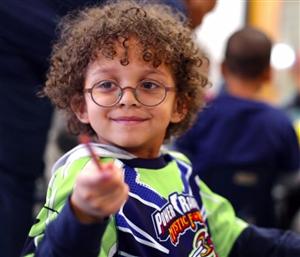 It has been said that a picture is worth a thousand words. If that's true, the new SLPS short film series is an encyclopedia of great information for the St. Louis community. Utilizing the talents of award-winning filmmaker Ryan Hanlon, who also happens to be a parent in SLPS, the District is in the midst of sharing the great news about SLPS via short films.

The first film, "SLPS PARENTS" made its debut on February 28, 2014 to rave reviews. Just recently, the second in the series, "SLPS PRESCHOOL" was unveiled. Both films are available for viewing on the District's film series website, www.slpsstories.org.

A thirty-second version of each film has also been created to air prior to the feature attractions at the Ronnies 20 Cinema, the Galleria Cinema and the Chase Theatre. A ninety-second version of the two films will air at the Esquire Theatre through the end of June. The thirty-second version will also air on several cable television stations in St. Louis City through the end of May.