Food and Nutrition Services at SLPS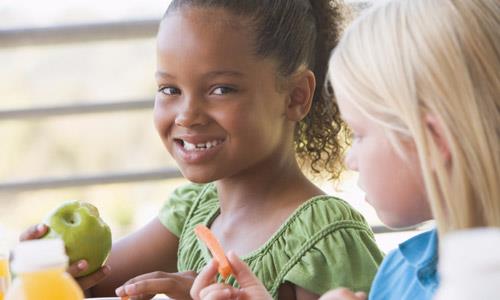 The Special Administrative Board of The Transitional School District of The City of St. Louis acknowledges that student well-being and student achievement are inherently related.

All Students Eat Free
Since the 2014-2015 school year, SLPS has operated under the Community Eligibility Provision (CEP), a revised meal service policy that has allowed all SLPS school children to eat a free breakfast and lunch without having to fill out a Family Application for Meal Benefits. All school menus are available online at www.slps.org/menus.

Health and Wellness Policy
In support of the vision and mission of St. Louis Public Schools, the Special Administrative Board aims to create and maintain a healthy school culture for all children and staff through the implementation of its Health and Wellness Policy. The policy is designed to promote student well-being while taking into account competing priorities and resource availability. The Health and Wellness Policy is available HERE.

For more information about school meals, visit the Food and Nutrition Services Department website.

The Department of Elementary and Secondary Education does not discriminate on the basis of race, color, religion, gender, national origin, age, or disability in its programs and activities. Inquiries related to Department programs and to the location of services, activities, and facilities that are accessible by persons with disabilities may be directed to the Jefferson State Office Building, Office of the General Counsel, Coordinator – Civil Rights Compliance (Title VI/Title IX/504/ADA/Age Act), 6th Floor, 205 Jefferson Street, P.O. Box 480, Jefferson City, MO 65102-0480; telephone number 573-526-4757 or TTY 800-735-2966; fax number 573-522-4883; email civilrights@dese.mo.gov.

This institution is an equal opportunity provider.