Welcome to the Compton-Drew ILC Middle School Principal's Corner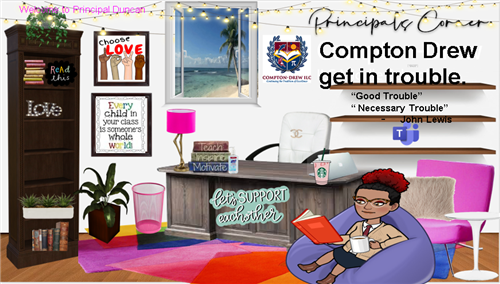 Compton-Drew Investigative Learning Center Middle School
5130 Oakland Avenue
Saint Louis, Missouri 63110
Phone (314) 652-9282
Fax (314) 244-1756
Dear Students, Parents, Faculty and Staff,
Tomorrow belongs to those who are prepared. Failure is Not an option! Get in Trouble. "Good Trouble". Necessary Trouble. John Lewis
It is with great pride and excitement that I write this letter of introduction as the newest principal of Compton Drew, ILC Middle School. I am grateful, humbled, and honored to serve and lead a school with such a rich tradition in education.
I have dedicated more than fifteen years in the field of education. I have worked in the middle school setting for approximately twelve years in various capacities such as Special Education teacher, Special Education Process Coordinator, Reading Specialist, and Instructional Coach. My most recent administrative experience was serving as the Assistant Principal of Compton Drew, ILC Middle School, for the 2019-2020 academic school year. I am excited and eager to partner with each of you as we embark on a period of uncertainty in these trying times. I will be a rock of consistency for you!
Along with all staff, I will serve with purpose, passion, and intention to continue the legacy of success established by those before me. I will build and sustain authentic relationships with students, parents, and community stakeholders.
I believe my sole responsibility is to guide and foster a safe and conducive environment for ALL students to thrive and receive a world class education experience.
I look forward to meeting each of you, and please don't hesitate to contact me with any questions, concerns, or ideas you would like to share.
Sincerely,
Shaire L. Duncan
Shaire L. Duncan, Ed.S.
Principal