Welcome to the Compton-Drew ILC Middle School Principal's Corner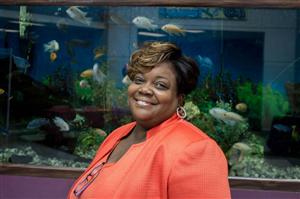 Dear Dolphin Parent(s) and/or Guardian(s),
Welcome to the Compton-Drew ILC Middle School for the 2017-2018 academic year! We are very excited about all of the wonderful learning experiences we will be offering this year.
Toward that goal, we are preparing a challenging curriculum in Math, Science, Communication Arts, Social Studies, and Related Arts. Our shared goal is to improve the learning experience for all members of our community so that learning extends beyond the traditional resources of the classroom to utilize the vast resources available in our local and global community. We plan to continue our tradition of excellence in students through the successful achievement of the 4A's of Attendance, Attitude, Achievement, and Attire. Students will be encouraged to stretch and grow mentally, socially, emotionally, and behaviorally to meet their personal high standards as well the high standards of our school community. Our program will focus on Character, Achievement, Rigor and Excellence. We look forward to working with your children to promote the very best of what they have to offer as a life-long learner and a member of the global community.
We have some significant changes that will be occurring for the year. Specifically, our bell time is changing which means that school will begin at 6:30 AM with the breakfast program. Classes will begin at 7:10 AM, and dismissal will occur at 2:07 PM.
We look forward to an exciting and fulfilling academic year with you and your child!
Sincerely,
Susan Reid, Principal
---