WASHINGTON MONTESSORI ELEMENTARY SCHOOL
Home of the Pandas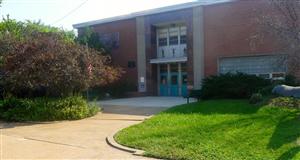 1130 N. Euclid
St. Louis, MO 63113
Office (314) 361-0432
Fax (314) 244-1927
Principal: Lisa Small
Hours: 9:10am-4:07pm
Grades: PK-5
Click HERE for a map.
Dear Washington Montessori Parents, Families, and Partners,
It is my pleasure to welcome everyone back for an incredible year of teaching and learning at Washington Montessori. We are excited to have our students back in our halls and classrooms as we work to inspire them towards their greatest potential. It is our mission to make sure that every child experiences instructional opportunities that will fill them with energy and a great enthusiasm for learning in order to boost academic achievement. With your support, I know we can make it happen.
We hope that you will find our website helpful and informative as we use this as a primary medium to provide answers to pertinent questions. The Washington Montessori One-pager will provide information on some of the most commonly asked questions. In addition, our grade level teachers will provide key information regarding classroom systems and procedures.
I am honored to serve as the principal of Washington Montessori Elementary School. It is truly a privilege to lead the only Montessori School with SLPS. More importantly, it is a blessing to be an integral part of a community where our partners, staff, teachers, students, and families work relentlessly to cultivate and maintain positive relationships to support student achievement.
Please feel free to contact me at lisa.small@slps.org or at 314 934-5321
In the Service of Children,
Lisa R. Small
Dr. Lisa R. Small
Washington Montessori Quick Facts Sheet and Important Information
Breakfast-Breakfast and student supervision begins at 8:30am and ends at 9:00am. Students will not be allowed in the building prior to this time. Students in grades PreK-4 will eat breakfast in the dining room and G5 will eat breakfast in the classroom on the second floor.
Morning Arrival-If you are dropping off your students off in the morning, you may park on the East and West sides of Euclid Avenue. Please note the street parking signs which read: Restricted Parking 7am-9am, and 1pm-4pm, Monday-Friday
8:30-9am

Buses arrive on Euclid

Bus riders enter Door #11

8:30-9:00am

Parent/Guardian Drop off

Door 3 at Bayard Avenue

9-9:10

Parent Drop off Students

Enter Door #11

9:10 and after

All students enter Door #1 and stop by the main office
Transportation-For questions regarding transportation, please call 389-1111
School Uniform-Washington Montessori is a uniform school. All students must wear uniforms everyday:
Shirt

Hunter Green or Navy Blue

Bottoms

Khaki or Black

Shoes

Covered toe shoes for playground and gym safety (no sandals, flip flops, house shoes)

Shirts must be tucked in and belts must be worn with pants. Sagging pants are not allowed. Students may wear uniform shirts with jeans on Fridays.
Classroom Visits: The goal of Washington Montessori is to ensure that the instructional time of each child is maximized. When visiting Washington Montessori, all parents must sign in at the front office and speak with the Family Community Specialist and follow the classroom visitor expectations and procedures.
Early Dismissal: Parents are to report to the main office at door #1 by 3:15 to pick up students early in order to avoid being blocked in by the buses.
End of the Day Dismissal: Riders and Pick-ups will be dismissed from door #3 in the library beginning at 3:51pm. Students must be picked up by 4:15pm. Please be patient to ensure student safety. You may pick up a car rider visor with a matching book bag tag for your student from the main office. All bus riders will be dismissed from the front area of the first floor hallway.
Before and Aftercare: Before and Aftercare is available by the YMCA in the dining room.
Hours of operation are from 6:00am-8:30am and 4:15pm-6:30pm. You may obtain an application from the front office. There is a fee for this program.