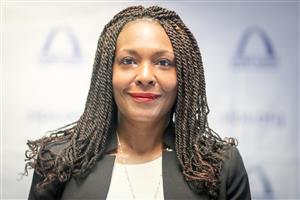 Dr. Leslie Bonner, Principal
Jefferson Elementary School Community,
Welcome to the 2020-21 school year! It is an honor to serve as principal of Jefferson Elementary School. I am thrilled to be part of such an excellent school community and look forward to meeting all scholars, families, and community partners. As we embark on this journey together, I am certain that it will be a school year filled with new experiences and opportunities for children, strong collaboration between school and home, academic progress and a continued sense of community.
Jefferson Elementary School is filled with teachers and staff who share my passion and dedication for each scholar's academic success and personal growth. We are committed to instilling a love of learning; providing a positive, safe, and secure atmosphere where children can thrive, growing both academically and socially. Maintaining a strong focus on partnerships with our families is a common goal that each member of our team shares. Our hope is to continue building on the already established, strong partnerships with our families in an effort to continue enhancing our school environment.
A robust foundation in reading, writing and communication skills will allow children to succeed in any subject; hence our school focus on literacy, with daily opportunities for reading and writing across content. We ask that families reinforce this literacy focus at home, encouraging scholars to read independently, or aloud to a parent or sibling for 20-30 minutes each evening. Remember, children are never too old to listen to a good book being read to them.
The Jefferson scholar will not only focus on academics, but also extracurricular activities both during and after school. Opportunities to take classes in art, music, gym; classes taught by teachers from COCA, or participate in Chess Club, Step Team, Book Club, before and after school tutoring are a few examples of what is offered. Scholars will also engage in a variety of field experiences designed to support learning in the classroom and as incentives.
As we prepare for an amazing school year, we invite you to partner with us in providing an excellent teaching and learning environment for our scholars. Your support is valued, encouraged and appreciated. I am so pleased that you have chosen Jefferson Elementary School and look forward to working with you.
Sincerely,
Leslie
Dr. Leslie A. Bonner, Principal