Welcome to Sigel Principal's Corner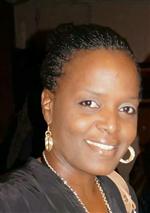 Dear Parents/Families
I would like to extend my warmest welcome to our Sigel families for the 2016-2017 school year.
Please note that the first day of school is Wednesday, August 17, 2016. Students may arrive at 8:40 a.m. for breakfast. Classes will begin at 9:10 a.m. It is important that your child attends the first day and every day. Sigel is a uniform school. The uniform consists of navy or khaki pants; a white or light blue shirt; and a black or brown belt. Students are expected to wear a uniform each day.
Our staff is committed to helping your child succeed, but we need your help. Ensure that your child is prompt and attends school every day, completes homework and projects, and follows the school expectations and rules. Your presence in the school is encouraged. You are invited to participate on committees, volunteer in classrooms, and join us for school-wide assemblies, classroom instruction, special events, and parent workshops. At Sigel, we value each and every one of you and we value the trust you place in us to educate your child(ren) through the elementary school experience.
I look forward to working with you and serving you as a partner in your child's education and success. If you have any questions or concerns, please call me at (314) 771-0010 or email me at hollie.russell-west@slps.org.
In service to children,

Hollie Russell-West, EdD