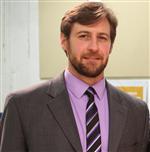 Welcome to the Busch Middle School of Character Principal's Corner
Hello Busch Families!
I hope you had a wonderful summer. We have a lot of good things happening at Busch this year. Some highlights include yoga being introduced in the classrooms, student college funds, and our continued commitment to learning about character education and restorative justice.
We have four new teachers (if you count Ms. Spenn who began in January of this year). Mr. Stuhlman will teach 6th grade math, Ms. Schnell will teach a cross-categorical special education classroom, and Mr. Kelting will teach 7th grade Science.
Remember, our school is still recognized as a National School of Character, and will hold that distinction for another four years. We will then need to reapply to make sure we can keep that status, which we worked so hard to attain. In other words, the work continues on! We want to keep growing in terms of how we contribute to our community.
Thanks to all the parents who supported us with the Teen Out Reach Program. This program was critical to our service learning. This year, the program will expand, so it will be offered in grades 6 and 7. We will also continue our partnership with Girls in the Know.
I look forward to working with you.
Sincerely,
Robert Lescher
Busch Middle School of Character
Principal
(314) 324-2150
---