Welcome to the Yeatman-Liddell Preparatory Middle School Principal's Corner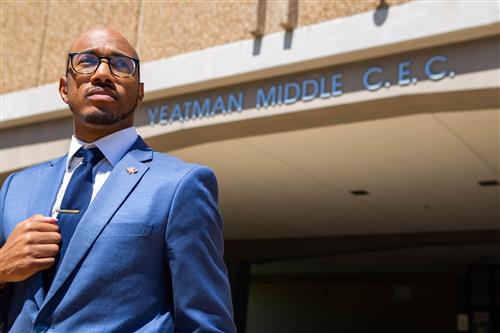 Welcome to Yeatman Middle School! My name is Kenneth Griffin and I am incredibly excited to join the rest of the faculty for the 2020-2021 school year!
I have over ten years' experience in education, as a teacher, and as a Director of a major Education Preparation Program at Southeast Missouri State University. I am a proud product of the St. Louis Public School System, attending Beaumont High School, Yeatman Middle School, among others.
With this background, I plan to work hard every day to ensure the success of our students and help prepare them for their next level! It is important for me to learn and work with our student body, but I also want to get to know you, the parents and community leaders.
Some of the virtues I plan to help instill in our student body are leadership, independent thinking, and achievement. I have a strong belief that all students can be successful, and this can be done with rigorous lessons, challenging teachers, and a faculty who have a passion for success! I am very thankful for this opportunity and will demonstrate this on a daily basis.
When not working I enjoy watching football or traveling with my longtime wife Raveen Griffin. I am confident that along with this team we can and will be successful this school year! Feel free to contact me any time at 314-261-8132. Thanks for all you have done, I look forward to meeting and working with you all!
Kenneth Griffin
Principal