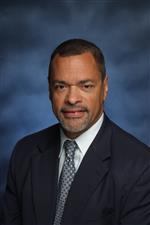 Greetings Students, Parents, and Community Members,
I am glad that you have taken the time to visit our website and I truly hope you will see how excited we are about our bright future at Yeatman-Liddell Middle School.
As an educator with a wide range of experience in both public and private schools, the opportunity to lead Yeatman-Liddell Middle is quite powerful because there is so much promise. To the school community members that I have had the pleasure of meeting so far, thank you for your warm and genuine greetings. Yeatman is blessed to have caring and dedicated educators and community members focused on academic excellence, personal accountability, and being the very best we can be as a school community. Everything that we do at Yeatman is centered around this statement:
"At Yeatman-Liddell Middle School, we are professional, there are no excuses, and respect is a must by all!"
We believe strongly in our Tiger Core Values:
A Strong Academic Foundation is Required
Respect for All is a Must
Integrity and Character Matter
We Possess Self-discipline and Grit
We are Open-minded to Stretching Ourselves
We are Leaders, Now and in the Future
As we begin a new chapter at Yeatman, we are committed to broadening learning opportunities beyond traditional classroom walls. From 6th - 8th grade, our curriculum is challenging, integrated, inquiry and project-based and our students will embark on a rigorous and relevant learning journey to know themselves and discover what opportunities lie ahead for them. Our pre-college prep academic program promotes mastery of content and in the skills and attitudes that are increasingly necessary to live and thrive in the 21st century: social skills, commitment, critical thinking, creative problem solving, flexibility, and communication. From academics, athletics, or the arts, our faculty and staff guide our students to discover and develop their own strengths and passions through unique experiences, challenges, and encouragement, and the school supports their efforts in a student-centered and professional environment.
Our partnerships with community organizations and business partnerships enhance our school, bring real issues to life, and encourage our students to be participants in the greater community, and ultimately in the world at large.
We are so excited regarding the new offerings coming to the Yeatman-Liddell Middle School next school year such as courses and programs in Science, Technology, Engineering, Arts, and Math (STEAM), including Project Lead The Way's, Biomedical Health Science, Computer Programming, Engineering, and Environmental Science classes, a STEM/STEAM lab, and instrumental music (band), all during the upcoming 2019-2020 school year.
The future is indeed bright at Yeatman-Liddell Middle School!
Please check back often as we continue to make changes to our website and faculty and staff webpages.
Most Sincerely,
Chip Clatto, Principal
314-261-8132