Welcome to the Principal Hunt's Corner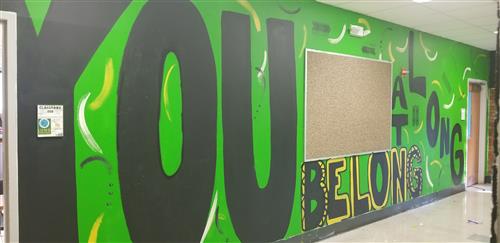 Hello and welcome to Long International Middle School, home of the Tigers! I am Benicia Nanez-Hunt, your new building principal. I am excited to bring innovation, collaboration, passion, and vision to Long International Middle School. This year, we will build the culture of diversity and internationality introduced last year by embracing this year's theme of "You BeLong at Long!" Students will enter school on Tuesday, August 14,, 2018 to a new customized mural reflecting our school theme, new technology in classrooms, additional energetic teachers, and new school systems surrounding Reading, Mentor Classes, and Vocabulary. Each new system will support the vision of the school that our learners are diverse, innovative, and representatives of global leadership.
We have several goals to ensure both success and established culture for Long this school year. Our attendance goal this year will be to meet and maintain 90% for all students. If there are attendance issues or transportation issues, please contact the school immediately, so we can develop a plan to ensure your student's attendance for instruction. We anticipate transportation hiccups the first week or two of school, please call 314.389.2202 for Routing Issues; if there are late buses, or no-shows, please call Dispatch at 314.772.3184 prior to calling the school. Our instructional goals will be to improve Reading and Math skills by implementing reading in every course at every grade level. Competitions and programs to support these initiatives will be detailed through the year. Furthermore, our goal to improve stakeholder support will include community sponsorships, creating a Parent Organization, as well as Student Government to ensure that every stakeholder and member of Long truly belongs.
Please join me at our Welcome Back Open House, Tuesday, August 21, 2018 from 5-7pm at Long International Middle School; refreshments and food will be provided. Students should wear their Tiger Den's shirt (distributed the first week of school) for Tiger points. Uniform policy changes and supply lists can be foound on the website. Also, as a gentle reminder, school begins Tuesday, August 14th, breakfast will be served at 6:30 am (free and pork free!!!) Instructional school hours are from 7:10-2:07 pm. If your student will be absent or late, please contact Ms. Harris at 314.481-3340 immediately. If your student will no longer be attending Long International Middle School for the school year 2018-2019, please contact Ms. Harris immediately as well. If you are interested in joining Long Parent Organization, please contact Ms. Dorothy Smith, our Family and Community Specialist to receive information.
I look forward to a wonderful, productive, and successful first year as your building leader! If you have any questions or concerns, please do not hesitate to call, email, or stop in. And, remember: "You BeLong at Long!"