Welcome to Metro A&C High School's Principal Corner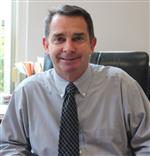 July 23, 2018
Metro Parents/Guardians,
Welcome to the 2018-19 school year! I look forward to meeting all of you soon, if we haven't connected already. 2017-18 was a banner year for Metro. We experienced great success in athletics; winning numerous championships and setting records for victories in various sports. Our students received national recognition in debate, won a state championship in chess, and many students made substantial impact in our community through their service to others. The graduating class of 2018 set a high bar for our rising students. They achieved an average ACT score of 27.1 (the highest in Metro history) and received scholarship offers of over 19 million dollars! I challenge all of our rising classes to meet and exceed the levels set by the class of 2018.
Although we had a great year, we are always trying to improve what we do. Several things to look forward to this year:
Senior Buddy Mentoring Program will make its return this year. We have an IB student that is taking it on as her CAS project and we are excited about the improvements she has in store.
Advisory classes will be sorted by grade level. This will allow us to target activities and information for our students. There were some student concerns voiced over this change around causing separation between the classes, so we will make sure to combine students across grade levels for our school discussions/activities. We are also beginning an advisory "competition" that will promote camaraderie and infuse some silliness and fun into the advisory program.
We have added several new course offerings (Coding, AP Stats, and African American History) and will continue to examine the possibility of additional courses next school year.
The activity fee will be lowered from $75 to $60
Senior Dues will be decreased from $250 to $200
Teachers have signed up for professional development on: Cooperative Learning, AP training, Culturally Responsive Teaching.
We have also added some excellent new staff members. Please make sure you meet the individuals listed and introduce yourselves on your next visit to school. We feel confident that their addition will add to Metro's success.
APES and Freshman Biology – Jeremy Van Pelt
Counselor- Tamara Johnson
PE/ Health – Alena Armstrong
In order to get the 2018-19 school year off to a great start we have planned Freshmen Orientation for August 1-2, 2018 - 8:00a.m. – 2:00p.m. Transportation is not provided. Students should bring a sack lunch.
We also need to complete the student registration process to insure a productive first day of school.
Please have completed forms (student and parent signatures are required) and bring them with you during the following times.
Registration dates and times for all grades:
Thursday, August 9, 2018
Time: 10:00 a.m. thru 6:00 p.m.
Friday, August 10, 2018
Time: 8:00 a.m. thru 4:00 p.m.
If these times do not work, please call Ms. Richardson at 534-3894 to arrange an appointment to register.
Important Information concerning registration:
$60 activity fee (We have reduced this fee by $15 compared to last year) will be collected to fund clubs, activities and athletics). If you have more than one child, there is a $20 reduction for each additional student (cash, check or money order made payable to Metro High School please).
All families must verify residency (current unpaid utility bill, lease, Social Security document etc. with parent/guardian name).
Lockers will be assigned
Id pictures will be taken (students…look your best!)
Spirit wear can be purchased
Textbooks will be checked out
Tentative schedules will be shared (schedules may be altered before school begins)
Important dates and reminders:
August 1-2 Freshmen Orientation
August 9-10 Registration- All grade levels
August 14 First Day of School
I look forward to seeing you and your students. Thank you in advance for your assistance in making 2018-19 the best year in Metro history!
Steven Lawler
Principal, Metro Academic and Classical High School